02.09.11
Gemini version available ♊︎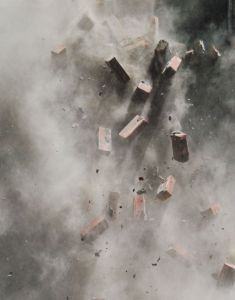 Summary: Allies of Microsoft are still throwing bricks at the unstoppable platform which gradually takes over everything
LINUX is constantly under attack because it is winning (just look at all the anti-Android litigation). At Techrights we emphasise this all the time. As Linux goes very mainstream everywhere, malicious proprietary software companies like Apple, Microsoft, and SCO are certain and determined to attack Linux. All three companies already sue companies which sell Linux. They sue using intellectual monopolies, which are the weakest form of competition (all the other forms — including technical merit — have failed for them). The situation at Nokia is serious, but it is not fatal. Now, let us look at litigation — not entryism — which poses a risk and constitutes a factor that can slow down Linux and Free software's triumph. Regarding the SCO sale to UnXis, Groklaw keeps an eye on it (as do we) and there is now a formal objection to the UnXis plan:
Novell has, as expected, filed an objection to SCO's proposed sale of assets to UnXis. It's terse in mood, but unless the judge is asleep, it should do the job.

The first basis for the objection is that SCO doesn't have the "necessary consents" from Novell "for the assumption and assignment of agreements with Novell". As Novell tells the court, "Original APA Section 9.5(c) expressly prohibits its assignment by SCO without Novell's consent." And Novell won't consent this time either, just like last time.
Crossing over to the realms of patents, DistroWatch is advertising Centrify and Linux.com too has been advertising (for money) this pusher of Microsoft APIs and software patents. Such Microsoft proponents that are close to Microsoft are dangerous for the same reason Likewise is dangerous and based on this new press release about Tuxera joining the Linux Foundation [1, 2], the number of Microsoft pushers who promote Microsoft patents is growing inside the Linux Foundation (Linux.com is now owned by the Linux Foundation too). As a quick recap, Tuxera tries to extract/pass Microsoft patent tax from Android and Linux, using proprietary file systems that nobody wants or needs. Centrify promotes Microsoft protocols too and it is keen on software patents. One need not be baffled by the Linux Foundation's admission because it's hard to embrace exceptionalism at this type of open consortium and many of its most powerful members (with IBM's clear dominance) are proponents of software patents. Despite the use of the term "Foundation", the Free Software Foundation differs enormously from the Linux Foundation and certainly the Gates Foundation, which loves patents more than the former two. That having been said, the Linux Foundation does a lot more than it should to endorse software patents, even with the OIN. The so-called 'ecosystem' it promotes involves a lot of patented and proprietary software, so the policies embraced by the Linux Foundation are at times incompatible with Linux itself. Carlo Piana, a respected lawyer specialising in Free/open source software, explained this problem to me last night.
I agree, and act, but how to achieve that? The lobbying is intense in the opposite direction.
Piana does not fully agree with Red Hat's stance on the subject (like the OIN, its legal team speaks of "bad patents" rather than "software patents" as needing to be abolished). Piana rightly insists that "the *only* solution is abolition NOW". Meanwhile, Microsoft Florian keeps tweeting me a lot about the subject. Last night he was still messaging me, trying to daemonise Red Hat's stance. He generally daemonises Red Hat, GNU/Linux, and its business model in his blog, removing any pretences that he cares for "Linux" or "FOSS". He hates OIN with a passion because OIN is a big deterrent/problem to companies like Microsoft and Mandriva in fact has just announced joining the OIN:
Open Invention Network (OIN), the company formed to enable and protect Linux, today extended its community with the signing of Mandriva as a licensee. By becoming a licensee, Mandriva has joined the growing list of organizations that recognize the importance of leveraging the Open Invention Network to further spur open source innovation.
Mandriva is located in a region where software patents are theoretically invalid; however, malicious monopolies and their lawyers try to change this. "Feel free to explain what the author got wrong," wrote the FFII several hours ago about this new post about the "EU patent" (path for inserting software patents into Europe).
Keeping track of threats is not FUD, it's vigilance. Linux will need a lot of vigilance as it enters phones and tablets, not just servers, routers, and several other non-desktop market segments that are actually expanding. █
Permalink
Send this to a friend