08.16.11
Gemini version available ♊︎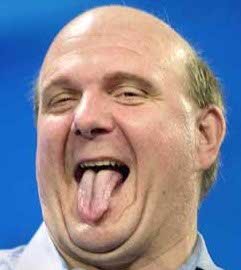 Summary: The "Linux is just a desktop" pattern of FUD gets used by Microsoft boosters (with a new hat) to rile up and ridicule supporters of GNU/Linux, which thrives in many areas and spawns new brands (like "Android")
A Microsoft booster from Directions on Microsoft (Matt Rosoff, who left them last year only to promote Microsoft, as a seemingly-independent writer) started to spread some more GNU/Linux FUD last week. We have already given many examples, some of which well covered in this site, where he was advancing Microsoft agenda and this is just his latest (no links given as that would only feed a provocateur). Brian Proffitt, whose defence against this is weak (he helps validate the false allegations), neglects to mention the conflict of interest from this shameless Microsoft booster who now pretends to be a journalist. The only proper responses we have found so far help show that this FUD also got echoed by other Microsoft boosters such as Ed Bott. We were going to just ignore this FUD rather than give it any visibility. However, rebuttals have already been posted (around Monday), so we might as well give links to those:
Whereas said documents used to include Linux as a primary threat to Windows — alongside Apple (Nasdaq: AAPL) and Google (Nasdaq: GOOG) — Redmond's documents now reportedly don't mention any competitive threat from desktop Linux at all, according to a recent article on Business Insider, which cites a tweet by Directions on Microsoft's Wes Miller.

[...]

Of course, embedded Linux is still acknowledged as a problem in that arena — not to mention servers, of course — but author Matt Rosoff (formerly with Directions on Microsoft as well, it most certainly should be noted) comes to a very happy conclusion anyway: "So much for all those predictions that Linux would kill Windows," he writes.

Sure, on the desktop, it's a Windows world, but guess what Sherlock; the desktop is declining in importance. The mobile, server, Web and cloud worlds are where the twenty-teens' billionaires will come from, not the desktop. And, guess, who's already in all those spaces large and in charge? Yes, that's right, Linux.
In IRC, Ryan explains this morning: "They declared victory on the desktop [...] how strange that this has nothing to do with their market share [...] and comes just as the DOJ oversight is going away and they don't need to pretend they have credible competition there anymore"
"Also," I added, "they have tablets challenging desktops now. Tablets run Linux"
"Microsoft revived Apple back in the 90s," Ryan elaborates, "when they nearly bankrupted themselves after a long line of stupid business decisions [...] what's going on with Novell is the same thing, just a different market" [...] (We have competition, they even compete using our technologies) [...] not on the desktop, that has always been a misleading truth, but the money is in servers and workstations and now phones and tablets so they're the majority holder of a platform that is not growing and in fact, is starting to recede"
"Windows revenue has declined for quarters," I noted (since 2009). █
Permalink
Send this to a friend