11.18.11
Gemini version available ♊︎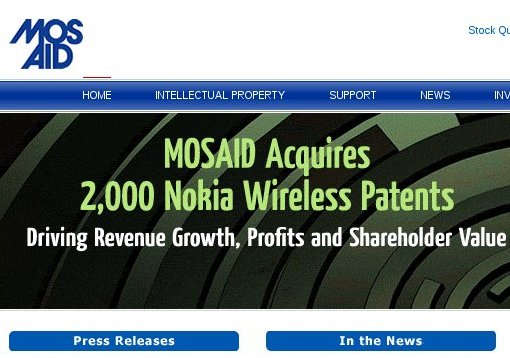 Screenshot of the homepage of the patent troll Microsoft is feeding
Summary: MOSAID, which we wrote about many times before, is now a subject of more calls for antitrust/regulatory action
FOR over a month or two Techrights has foreseen Microsoft using MOSAID as a patent troll and proxy against Linux not just because of anti-Red Hat lawsuits but also because of the Nokia (versus Android) plot. We have begun building a wiki page about MOSAID and we shall keep it updated as long as Microsoft and its mole at Nokia try using this troll as a proxy. According to this article, MOSAID is coming under fire for being part of anti-competitive abuses:
Quinn Emanuel, another fabulous law firm, has joined the team representing Barnes & Noble before the ITC. And Google is in the mix too, filing an objection to Microsoft's request for a shortened time for Google to respond to its motion. This is getting good. Barnes & Noble has filed a truly hilarious compilation of prior art, in a supplemental notice of prior art, which shows me that it's still not too late to keep finding more, if you happen to know of any. And it has asked for a letter rogatory to go after evidence regarding MOSAID, a Canadian firm, and its deal with Microsoft and Nokia via documents and a deposition of the CEO. MOSAID doesn't wish to voluntarily turn over anything.
MOSAID is one heck of a rancid thing and so is Microsoft, which pulls MOSAID's strings to distort competition. We are now seeing just how ridiculous the USPTO is and the extent to which Microsoft exploits this malfunction based on Microsoft boosters who write: [via]
It almost seems that way based on a newly surfaced patent application from the Redmond company. The filing describes a computer system that would monitor behavior in the workplace with the goal of getting workers to stop each other people off during meetings, and convincing bosses to stop bugging their direct reports on their lunch breaks, among many other bad workplace habits — but at no small cost to workplace privacy.
Microsoft: is it a patent troll or a company that produces things? The truth may be somewhere in between. █
Permalink
Send this to a friend