02.05.12
The Apple assault doesn't blend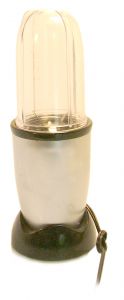 Summary: Apple products get banned (for the time being) after Apple decided to attack Linux-supporting competitors and then received some blowback
APPLE'S opening of a jar of worms has led to reactionary lawsuits that sometimes trouble Apple and discourage the original strategists (those in favour of suing Android). Some of Apple's legal leadership has already left or was fired. We covered this at one time.
According to the corporate press and the Irish Times, Apple has its day in court and the outcome is not as Apple originally planned:
Motorola Mobility has won a second German patent ruling against Apple over its iCloud service allowing the company to block sales of devices including iPhone and iPad if they use the software that accesses it.
Apple started this whole war and there is an attempt at deterrence from the defendants. Citing a Microsoft lobbyist, ZDNet tells the distorted version of the story, where Google and Motorola are somehow the "aggressors". To quote:
Apple was forced to remove several iOS devices from sale on its German online store on Thursday as a result of its patent battles with Motorola.

The iPhone 3GS, iPhone 4 and 3G iPads are currently not available from the company's web store in Germany following a ruling in favour of Motorola relating to FRAND-pledged patents declared essential to 3G standards.
With more rumours based on Apple patents (like this one) we expect Apple to carry on with its patent strategy, living and dying by the sword (the man behind this strategy is already dead). Apple does not even get sympathy from people who claim to like Apple products:
I like Apple products. God knows I own and use enough of them. But, I hate their out-sourcing business practices and their world-wide anti-Android lawsuits. So, when I learned this morning that Motorola Mobility had won a permanent injunction against Apple's iCloud service in Germany because of a patent violation and Motorola had followed that up with another patent victory, which has forced Apple to take all its older phones, 3G and 4 and all iPads off its German online store (German language link), I was pleased.
Apple has made enemies it did not need to make. █
Permalink
Send this to a friend