11.09.12
Gemini version available ♊︎
Joins Microsoft in suing the market leader, which uses the Linux kernel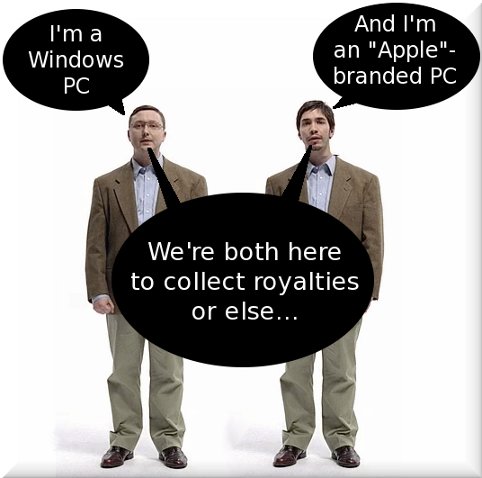 Summary: Just like Microsoft, Apple is now suing Google more directly by targeting Android as a whole, not particular distributions of it
APLLE IS up to no good. A sane observer would possibly suggest antitrust/federal action against Apple, and not just in the US, either. There is a lot of nationalism at play and Korea is too small and feeble to rebut effectively. What about the market deciding? That would generally work. But not enough is being done to show Apple for what it really is. In fact, we are deeply disappointed to see diversion such as articles that label Apple a "victim". Some obscure company is said to have started patent war against everyone:
An unknown company's four-year campaign to sue hundreds of companies for offering encryption on their websites shows no signs of abating, with Intel, Yelp, and MovieTickets.com being targeted in the past month, court records show.
In its Identi.ca account, the EFF said: "Patent troll targets those who use SSL security protocol. Speak out against a broken patent system" (linking to its Web pages against software patents).
Another familiar vermin [1, 2, 3 has won a patent case against Apple [1, 2, 3, 4], but it is actually worse than that. An article by Mike Masnick says: "Unfortunately, our broken patent system still refuses to recognize a true independent inventor defense — leading lawyers to make statements like the one above, in which they gleefully cheer on the fact that they are blocking companies from innovating on their own. Shameful."
Apple and Google were both affected in this case, but Google, unlike Apple, does not deserve this. Apple is suing Android again, this time aiming directly at Google [1, 2]. To quote:
Apple has moved to add Samsung's Galaxy Note 10.1 and, unusually, the Google-built Android OS Jelly Bean which runs on the phone to an existing patent lawsuit in the US.

The fruity firm argues that the Note 10.1 infringes on its intellectual property just as much as Samsung's other products in the case do.
This got a lot of coverage [1, 2, 3, 4, 5], little of which was flattering. To quote one example:
Apple is not going to stop its legal attack on Android. The sue-cidal company now wants to add Android 4.1 (Jelly Bean) to its existing lawsuit against Galaxy maker Samsung in federal court in San Jose. The company also wants to add Samsung's Galaxy Note devices to this lawsuit. The case will go to trial in 2014.
Here is more from the corporate press and Groklaw:
Apple is trying to supplement its claims, significantly asking to add Android Jelly Bean itself, among others to its *other* Apple v. Samsung litigation in California. Samsung partially opposes. It doesn't care if Apple adds the Galaxy Tab 10.1, for example, as long as it gets to add iPhone 5. But it strongly opposes letting Apple add Jelly Bean.

I thought you'd like to read all the filings, even if, like me, you are sick to death of Apple and its patent aggression. This isn't the trial with the jury foreman issue; this hasn't gone to trial yet. But it's the same two judges, the Hon. Lucy Koh presiding, and Paul Grewall, the magistrate. He held a hearing on this yesterday, and he's taken the issue under advisement.
Judge Posner, who had ruled against Apple, compared Apple to "animals" for this kind of behaviour (Posner also opposes software patents [1, 2, 3]), which is what's happening again:
Another Key Motorola vs. Apple Patent Trial Tossed Out By A Judge Frustrated With Apple's Games

Earlier this year, in a key patent fight between Apple and Motorola Mobility, Judge Richard Posner, who was "slumming" it down in the district courts for a bit, dismissed that case with prejudice while slamming Apple for its patent litigation strategy. Now, it appears that we have something of a surprise repeat situation, as a different judge in a different patent fight between the same parties has also dismissed the case with prejudice after angrily teeing off on Apple for its litigation strategy. Most of the reasoning can be found in an opinion the judge released late last week.
This was an important outcome. Let's hope that the idea of Richard Stallman will be implemented to ensure that all cases end up that way. The President of the OSI seemingly agrees with Stallman:
I've said it before and I'll say it again: Software patents are evil. They allow the work of innovators to be ambushed and raise the cost of technology innovation. But finding a viable solution to the software patent mess isn't easy.

As it happens, Wired is running a series of articles on this topic, including an essay by Richard Stallman, founder and president of the Free Software Foundation. Stallman proposes limiting the enforceability of patents against software, noting that the subjects of patents "can also be implemented in hardware … and many of them have been. Each patent typically covers both hardware and software implementations of the idea."
Over the weekend we are going to prepare some more wiki pages about patents. These matters are becoming primarily- and dominantly-recurring themes in the software world, not just the Free software world. There is the possibility of recruiting many millions of people for the fight against software patents. █
Permalink
Send this to a friend