12.15.12
Gemini version available ♊︎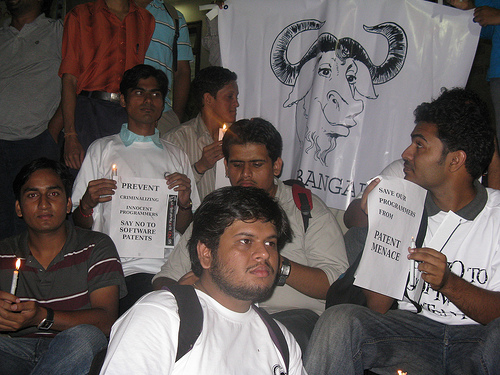 Summary: India enjoys abundance, whereas the US lets corporations create scarcity that kills people and also suppresses startups
A new post from a startup person, not a lawyer pretending to represent startups, explains why software patents are a "nightmare". This is becoming a trend; in fact, whenever it's a non-lawyer writing on the subject the outcome is the same.
In a video we posted very recently about Apple patents that can make one cringe it is easy to see where USPTO failed. Masnick shares such videos:
We're hearing more and more talk about how broken the patent system is, and recently came across a pair of videos we figured some of you might enjoy. The first is a comedic riff on Apple's recent page turn design patent, leading Ron Charles to post an amusing video of how Apple might explain its patenting of "letters"
These had an impact on other influential sites in the US. They are turning against their patent system.
Masnick's American site watches with envy what India is doing:
Getting rid of the first modern drug patent in this way neatly symbolizes the country's aggressive new attitude to Western-held monopolies on medicines. It's interesting that in this case the opposition came not from the Indian government, but from Sankalp Rehabilitation Trust, a non-governmental organization, which hopes to source the drug from a manufacturer of generics cheaply enough to be able to give it away for free. This may well inspire post-grant opposition from other organizations seeking to provide cheaper drugs to the sick in India through the use of generic versions.
My mother revealed to me last week that those generics give India a huge advantage and distribution worldwide is only impeded by draconian patent laws (barring import), which are artificial barriers or protectionism.
Patent-hostile site IP Watch also covered it:
India last week saw a landmark public health decision on the evolving role of intellectual property rights in the context of the public interest.

The country's Intellectual Property Appellate Board (IPAB) revoked a patent granted in India to F. Hoffmann-La Roche AG (Roche) for pegylated interferon alfa-2a (Pegasys), a medicine used to treat Hepatitis C.
Attempts to push software patents into India were made some years ago, but the population there seems to be sufficiently informed and eager to fight back against multinationals. No wonder India is booming. Even software development goes there. When did we last hear about patent trolls or even patent lawsuits involving software in India? In Europe, the situation has not been too bad, either, but Richard Stallman warned about 7 years ago that letting software be patented in Europe would give advantage to patent aggressors outside of Europe. So-called 'free trade agreements' (or similar treaties) try to globalise patent regime (i.e. extend scope of monopoly). Passage of those relies on keeping the population in the dark because that's a disgrace which is only good for multinational corporations. █
Permalink
Send this to a friend