04.10.13
Gemini version available ♊︎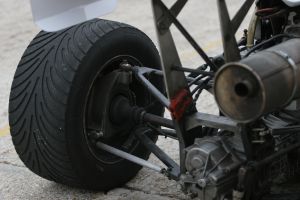 Summary: Response to claims that GNU/Linux is "hard"
Difficult it sure can be to become a high-speed racing/Formula 1 driver. Arduous it is to become an advanced computer user. Virtual desktops are hard to grasp conceptually or practically for those who never saw them in a Microsoft-dominant computer lab, so how can one expect to popularise multiple desktop activities the way KDE does?
The concept of extreme abstraction and removal of features has been popularised more recently by the advancement of smartphones and tablets (I write many of my posts while walking in the streets with my tablet). The general philosophy is that users are dumb and they should be treated as such. The problem with this is not that it's insulting (in disguise) but that it discourages learning and self improvement.
In the past decade, with the hype of 'i' things gaining a foothold, the class of 'simplicity elitists' got a lot of mindshare. The idea of excessive simplification was famously chastised by Linus Torvalds who used the "Nazi" word to call attention to the reason he was leaving GNOME. Sometimes more is less, but it has become a stubborn cliché which is hard to leave behind.
When I was a teenager and used KDE the environment was still a tad cluttered and many of the presented settings I could not make sense of. KDE had already gained a reputation as desktop made by geeks, for geeks. By the time KDE3 was out and more so in KDE4 (once many bugs were out of the way) most of the daunting settings had already been 'shelved' in Advanced menus and the GUI laid out more intuititively. But the stereotype never died. To this date, one of the prominent patterns of Linux FUD is that it's hard. Well, the kernel sure is hard, but the user barely ever interacts with it. A command-line user interacts a lot with GNU and GUI users often prefer GNOME or KDE.
When people tell you that "Linux is hard" ask them, "which desktop?"
My father had no issues when I switched him from Windows XP to KDE and he is not even so technical; he is a store manager who likes sports. Since the real barrier is that Linux desktops are different we should ask ourselves not how we make GNU/Linux easier but how to make people easier to change. It's not about coercion but about diplomacy. People need to be patient when they adapt. Is GNU/Linux hard? It's hard for impatient people to adapt to. █
Originally posted in Linux Advocates
Permalink
Send this to a friend