06.01.13
Gemini version available ♊︎
Don't help recover a deprecated business model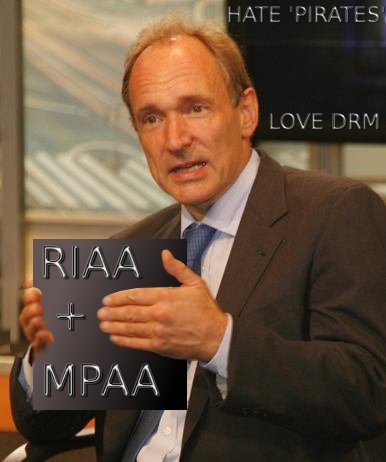 Source: Original from John S. and James L. Knight Foundation, modified by Techrights
Summary: Reality check required and some 'house cleaning' too amid serious reputation harm to the W3C
Tim Berners-Lee created the World Wide Web to help him, a CERN researcher, share his physics papers. I can relate to that personally. He and I were both inspired by Richard Stallman, who had led a movement a decade earlier, advocating free sharing (free of restrictions, not related to cost or business models). It was not about monetary gain and Berners-Lee antagonised patents all along [1, 2, 3]. Sadly, however, the W3C shares none of those same interests and principles. Recently, it got as bad as DRM advocacy (owing/due to Microsoft and a buddy), which is not shocking given who runs the W3C. I exchanged some words with Berners-Lee about patents. His views contradict those of the increasingly corporations-run W3C, e.g. on patents (the W3C CEO is a software patents proponent and the man behind the Microsoft/Novell patent deal).
The FSF and now the EFF are calling on the W3C to get its head together. So far, the subject has been mostly relegated to daily links, but it can no longer be treated as a low-priority issue. Tim Berners-Lee seems to be ignoring and dismissing the obvious calls from public interest groups. He discredits himself and does himself a disservice here.
"A few decades ago Tim Berners-Lee followed the example of Richard Stallman and now it is Richard Stallman's group which chastises Berners-Lee's. "Here is the latest protest against the W3C's action on DRM and further coverage of the original announcement in some FOSS-oriented news sites. For the W3C to facilitate DRM is like facilitating TiVoisation in GPLv2 or Linux and 'secure' boot in UEFI. It leads to bad practices that harm a lot of people.
A few decades ago Tim Berners-Lee followed the example of Richard Stallman and now it is Richard Stallman's group which chastises Berners-Lee's. There is something to be learned from all this. Berners-Lee should have power over the group (W3C) he created, it should not be the other way around. █
Permalink
Send this to a friend