09.25.13
Gemini version available ♊︎
The war on ideas. First they came for…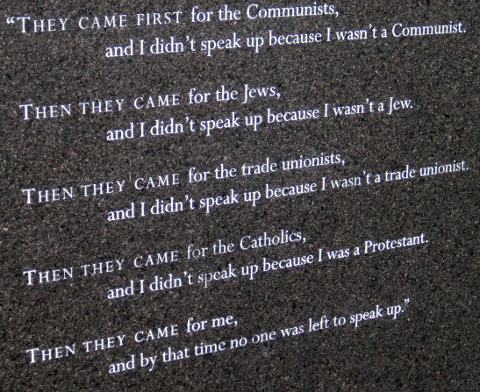 Summary: The Web and other types of Internet channels (e.g. BitTorrent as a medium) suffer from the politician's attack on phantom menaces like "copyright infringement", "child porn", and "terrorism"
OVER here in the UK there is a big push to censor the Web [1,2] and prevent anonymous use of the Web. I personally fight this by running a censorship-free access point that's free for all to use.
Entities are finding new excuses for censoring opposing opinions. Trolls and spam are the "child porn" and "terrorism" to some [3]; by this I mean that politicians use indefensible activities to impose on society a moral judgement of few plutocrats [4]. Facebook, a platform of censorship [5-6], is where a lot of this imposition can be seen (even certain political views are banned). Another excuse for censorship has become "copyright infringement" [7,8], which the copyright cartel views as superseding human rights.
Vietnam was recently seen taking further its crackdown of speech on the Web [9]. The Europe Union, where politicians like Neelie Kroes promote 'soft' censorship, keeps pretending to be against censorship [10] even while the UK and France, as shown above, clearly promote censorship. In the UK, ORG introduce the notion of "nudge censorship" to describe what the UK government is nudging for.
All in all, the world is descending into a more oppressive regime of censorship on the Web. Free speech is impeded rather than increased.
It should be noted that all sorts of storage, communication, etc. are being demonised and shut down one by one, until there is basically no choice left but to be "consumers" of DRM giants, communicate only through surveillance grids, give one's identity to marketers and armies, and be subjected to heavy (but invisible/transparent) censorship of ideas. The Internet is being warped into a tool for controlling people rather than empowering and enabling them. █
Related/contextual items from the news:
It wasn't a decision we made lightly. As the news arm of a 141-year-old science and technology magazine, we are as committed to fostering lively, intellectual debate as we are to spreading the word of science far and wide. The problem is when trolls and spambots overwhelm the former, diminishing our ability to do the latter.

'Mini-Miss' pageant organisers face fines and prison sentences as parliament addresses 'hypersexualisation' of under-16s

My guess is that it's the last item on the list, and that the article in Ars Technica didn't help. As any long term user of Facebook knows, Zuckerberg and his friends like to have control of every aspect of the Facebook experience, and the fact that Social Fixer offers users a way to taylor their experience is probably very much a thorn in their side.

The law also requires foreign internet companies to keep their local servers inside Vietnam.

The text adopted on 10 September 2013 by the European Parliament "recommends the exchange of best practices between Member States on enforcement measures – such as on establishing white and black lists of illegal gambling websites", but no longer mentions censorship measure. Although the choice of MEPs could be seen as inconsistent, it is still a victory for citizens and for freedom of expression.

Back on 18 June, Maria Miller MP brought Internet companies to her office to talk about what can be done about various types of undesirable, offensive, adult or illegal online content.
Permalink
Send this to a friend