01.26.14
Gemini version available ♊︎
Masterminds of financial apartheid can't fool us anymore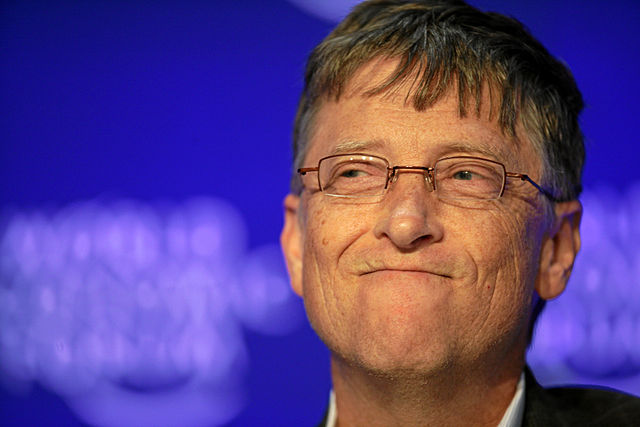 Bill Gates at the World Economic Forum Annual Meeting in Davos
Summary: The oligarchs of the world are fighting against personal ownership and living wages, but people of the world are fighting back and awareness of the problem is increasing
SOCIETY is being robbed blind by the likes of Bill Gates, who pretends to give away his wealth while he is actually increasing his wealth through investments he pretends to be "charity". According to [1], "Last year Gates increased his wealth by $15.8bn and has now once again become the world's richest man, worth about $78.5bn. [...] Gates has helped us unmask the true interests of the corporate elite."
Gates has been increasing his wealth for several years in a row, but the corporate press continues to receive his bribes and then describes him as a giver. There is no lack of money in the world. Dozens of trillions of dollars are being hidden by very few people in offshore havens. It's state-sanctioned looting.
To quote some new statistics of interest from Oxfam (also co-opted by Gates), the world's 85 richest people as wealthy as poorest half of the world [2-6] (i.e. 85 people have more wealth than 3.5 billion people combined). It's not an accident, it's like this by design. It's a very bad design, and it's reinforced by those in power — people who strive to continue to crush those at the bottom. Bill Gates invests in companies that are killing people (sometimes literally) and some of them, like Shell, also have former Nazi connections (see the latest [7,8] from a protest site against Shell for example, never mind the genocidal Monsanto, the violent G4S, and many more notorious companies that Gates invests in).
Here in the UK (although it's not unique to the UK) we are being incited against the poor and the foreign [9], despite the economic realities which say that the real problem is the looters at the very top. Some modernised countries are forced into poverty [10] by corrupt banks [11,12] that fund murderous companies, drug dealers, etc. (only to get away with it time after time). Some banks are now starting to charge for the privilege to take people's money and lend it out — at high risk — to other people (even if the banks don't really have this money) [13]. New laws are being passed to better facilitate those who are oppressing in this age of unrest [14,15], protest against the banks are being labeled "low-level terrorism" by the FBI, and Gates himself is investing in companies that crush dissent and protests (like G4S). A lot of people don't even have the time to study the situation [16], so they happily accept the fiction about crisis and the need to make compromises (like austerity). The super-rich are conspiring to lower our wages [17], driving many of us out of work [18] to making employment scarcity, then pretending to give handouts to the victims [19]. In the UK, whatever is public is being privatised for a profit (creating new super-wealthy barons) [20], and making some wonder whether capitalism still works at all [21].
Fortunately, Bitcoin emerges as a viable contender that even its rivals in the UK embrace [22]. There is a lot of Bitcoin hype these days [23-27]. What's more, here in the UK cooperatives are rising [28] (employees-owned companies), challenging the systemic tax evaders [29] and a broken economy [30] of financial apartheid [31] (huge gap between rich and poor).
Is there a financial crisis? Yes, the crisis is that there's looting, and the thieves are getting away with it. █
Related/contextual items from the news:
Permalink
Send this to a friend