02.14.14
The myth of "trickle down"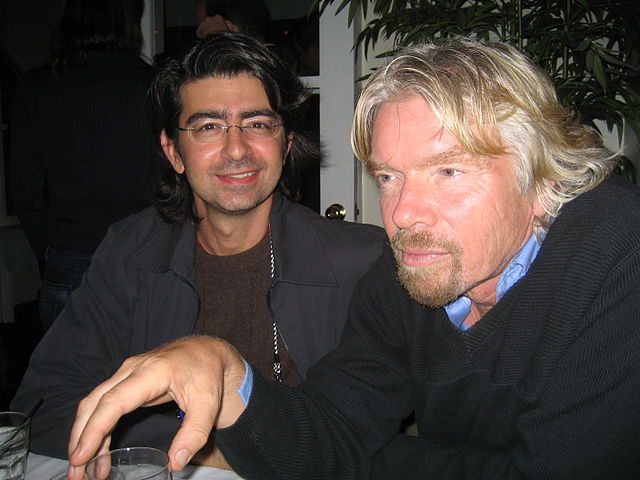 Pierre Omidyar and Richard Branson, photo by Pierre Omidyar
Summary: Excess debt is created by the rich, who then use it to confiscate public property (austerity) and further increase their personal wealth at the expense of the public
"Central banks around the world," explains Der Spiegel in a new report, "are pumping trillions into the economy. The goal is to stimulate growth, but their actions are also driving up prices in the real estate and equities markets. The question is no longer whether there will be a crash, but when." The article is titled "Feeding the Bubble: Is the Next Crash Brewing?"
As explained by many people before, this so-called 'crisis' is a crisis of economic distribution; there is no "lack" of money (a man-made concept anyway) and resources are more then sufficient to give everyone on Earth a tolerable lifestyle without debt slavery (neither personal nor national). "Stagnation by Design" [1] is a recommended new article about this. It was written by a famous professor of economics.
It is easy to see that there is no real crisis when bankers get bailed out, CEOs of corporations receive state subsidies [2], and benefits to the public are slashed or eliminated [3] (leaving the vast majority helpless and hopeless [4,5]). The problem is not just the currency [6,7], it's the system. This trend is spreading everywhere including Europe [8,9]. Corporations are being given welfare [10] instead of people receiving welfare [11] (some children end up in hunger in the US, in part due to this [12]). It's the "trickle down" fiction. The US spent a great deal of time attacking competing models [13], alienating many nations to its south, so even professors of economics in the US are not speaking out against the US model [14,15], which currently confiscates what's public [16] and gives it to just a few people [17] — so few in fact that they fit on a double decker bus and own more than the combined ownership of 3.5 billion people on Earth (that's how unjust and wide the divide has become). Under the leadership of the Tories, the UK heads down the same path.
It was recently reported that the banking cartel now refuses to give people money they deposited [18], putting yet more barriers in this process after using economic warfare to kill people's banks [19].
Last month we explained why Pierre Omidyar has no credibility when it comes to talking for the poor. He is himself a very rich person and despite claims that he tries to support journalism it finally turns out, based on The Intercept's introduction, that he is only in it for the money. Coverage of NSA files has mostly dried up as of late (reiteration of old news and smears against Snowden dominate the news). It's like Omidyar bought off those who were capable of leading a reaction to a system of looting and oppression. █
Related/contextual items from the news:
Permalink
Send this to a friend