05.28.14
Gemini version available ♊︎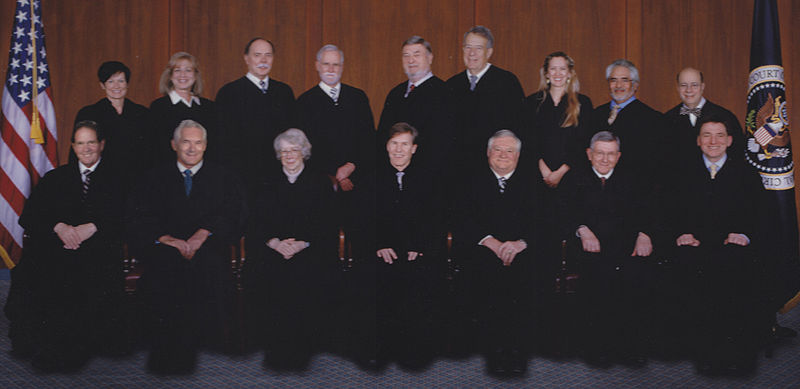 Summary: The Court of Appeals for the Federal Circuit's judgments on software historically based on dogma and misunderstanding/misrepresentation/misinterpretation of facts, not adherence to rules, logic, or even public interest
NOW THAT Ballnux giant Samsung hoards more patents we should take a moment to remember that not all companies that are using GNU/Linux are actually friends. Even Microsoft claims to be embracing Linux in Android (through Nokia), but its intents are malicious, as we have explained numerous times before. Then there is Oracle, which joined Apple and Microsoft in hoarding Novell patents for malicious purposes. It also sued Google over Android and did some damage to Red Hat with Unbreakable, never mind all the damage Oracle did to Sun projects.
Deb Nicholson (FSF), writing for an established Web site, explained "How The Changing Legal Landscape Impacts Free And Open Source Software Development". She correctly pointed out the following: "A patent is a limited monopoly granted for certain amount of time (20 years in many places) in exchange for full disclosure. Based on the description in the patent application, a person who is knowledgeable in that field should be able to recreate the invention. Patents used to be reserved for physical processes, new devices and sometimes a limited monopoly on a particular business opportunity. The scope of patentability has expanded in the last few decades and can now include software, as well as business methods and even certain medical procedures. The intent of patents is purportedly to encourage inventors to make investments and create new inventions that might have otherwise been too financially risky to complete. As soon as a patent expires the idea can be freely implemented by anyone."
Patents, however, are no longer the only risk factor. Consider what the Court of Appeals for the Federal Circuit (CAFC) recently did. The FSF has just come out with this formal statement:
FSF statement on Court of Appeals ruling in Oracle v Google

[...]

The situation then is substantially similar to the situation today. The key difference is that some of Google's affirmative defenses to claim non-infringement have been eliminated by this new ruling. The FSF now sincerely hopes for the next best thing to Alsup's original ruling: that Google is successful in its fair use defense.

Notwithstanding our support of Google's fair use defense, the FSF urges caution to all prospective Android users. Even though the core of the Android system is free, every Android device sold comes pre-loaded with a variety of proprietary applications and proprietary hardware drivers. The FSF encourages users to support the development of Replicant, a distribution of Android that is 100% free software. The FSF also encourages users of any Android-based system to install F-Droid, a free replacement for the Google Play app that allows users to browse, install, and receive updates from a repository of free software Android apps. Replicant uses F-Droid as its default repository.
Generally speaking, CAFC has been a sham for many years as it was also responsible for making software patents legitimate in the United States, before this trend/precedent spread to other countries. In 2012 it was points out that the court stood in the way of stopping software patents and a week or so ago TechDirt cited this article, accusing the person who did this in the court. As TechDirt put it: "Tim Lee recently got to talk to Michel following a talk he gave, and what becomes clear is that Michel is completely out of touch with how much of a problem patents are in the tech world today. Lee knows this subject better than probably anyone else, and when he tried to dig in on key points, it was obvious that Michel's knowledge of what actually is happening in the industry is based on myths and imagination, rather than reality. For example, when Michel pointed out that he's "a facts and figures guy" rather than one who focuses on "anecdotes and assumptions," Lee quickly points to James Bessen and Michael Meurer's comprehensive book on why patents hurt the tech industry."
Lawyers defy logic.
Here is the latest relevant article about this, an article from TechDirt about CAFC:
For many years we've written about the serious problems with CAFC, the court of appeals for the federal circuit, which is better known as the appeals court where all patent cases go. CAFC was created in the early 1980s under the belief that a more "specialized" court could better handle the more complicated technical issues related to patents. But what really happened is that it basically built a club of patent-friendly judges, who spent nearly all of their time with patent lawyers, and thus took an increasingly patent-friendly view of the world. That one of the key original judges on CAFC was also a long-time well known patent lawyer who almost single-handedly wrote the 1952 Patent Act, seemed to set the tone that has remained throughout the court's existence.
It is not unusual for this disgraceful court to do this type of thing. TechDirt also gave this other new example one week ago:
A few weeks ago, the Supreme Court smacked down the Federal Circuit (CAFC) for its made up rules that made it almost impossible to enable victims of patent trolls to get the courts to order the trolls to pay legal fees. As the Supreme Court noted, CAFC seemed to set up arbitrary rules for no reasons at all. And this is important, because courts almost never award legal fees, and with the untimely death of patent reform, hopefully this small change will at least help in the meantime.
Notice the tend. CAFC is a not a legitimate court, it has become a pack of software patents (and more broadly patents) boosters. Its latest judgment, as before, should be appealed and brought to SCOTUS, but this is expensive and can take years. █
Permalink
Send this to a friend