06.17.15
Gemini version available ♊︎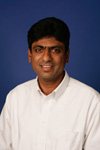 Summary: Promoting a future of subservience to Microsoft even when it comes to GNU/Linux, Android, and Chromebooks
"Embrace, Extend, Extinguish" (EEE) is alive and well at Microsoft. The word subsume is defined as "to include or place within something larger or more comprehensive," so it's a good word by which to describe Microsoft's treatment of GNU/Linux and Free/libre software, be it in Azure or Cyanogen etc.
Microsoft hired Mr. Srinivasan (above) from Novell to help subsume Linux, the kernel. We are concerned about this latest personality grooming from the Linux Foundation, having noted Srinivasan's role before [1, 2, 3]. Grooming the Microsoft developers who help Microsoft subsume Linux is not wise. The Linux Foundation presents Srinivasan as "an architect in the Windows Server Division at Microsoft where he focuses on making Linux run well on the Hyper-V hypervisor and Azure cloud environment." In other words, this man puts GNU/Linux in Microsoft's hands, managed by proprietary software with back doors. Great, eh? As we wrote last week, it's an entrapment. Microsoft is trying to do the same thing to Android, putting software that captures users' voice in it (transmitting it to Microsoft, a notorious privacy violator). Microsoft-friendly authors are right now celebrating the extension of Microsoft's spying network Skype (with NSA access) to GNU/Linux and Chromebooks. What a terrible thing to be doing.
The stupidest suggestion one can come up with right now is Microsoft buying a GNU/Linux vendor or anything along these lines, but corporate media (Fortune) has Barb Darrow say that it "makes sense for Microsoft to buy hot cloud startup Docker" despite Docker being quite closely tied to GNU/Linux (or UNIX). "Other emerging startups like CoreOS and Mesosphere are also working on capabilities that compete with what Docker's cooking," Darrow wrote. "And then there's the aforementioned Google Kubernetes, which is also open source and free, and also promises similar capabilities. Some analysts have said that the product works better than Docker's nascent orchestration features."
Docker already responded to this nonsense, saying that it's not for sale, but the Microsoft-friendly, Bill Bates-bribed media (yes, he subsidises them) released this puff piece which sells the 'new Microsoft' illusion. Microsoft's booster Tim Anderson, in the mean while, contributes to the openwashing of Microsoft using abandoned software.
Microsoft has not changed and it is definitely no friend of GNU/Linux and Free software. The Fortune article (finance-leaning) shows what non-technical writers can do when they don't actually understand what containers are and how they work (unless it was intentional propaganda). Microsoft buying Docker makes as much sense as Coca Cola buying Nokia or something bizarre like that. Do editors even check what they print? Is this just agenda disguised as an article? █
Permalink
Send this to a friend