10.04.15
Gemini version available ♊︎
Intimidation and retribution tactics a new low for EPO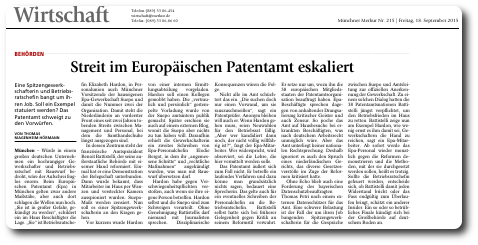 Summary: More threats from Benoît Battistelli (threats of termination and legal actions on top of it) help hide the abuses of Battistelli and his fellow thugs at the EPO
TOMORROW we have a very long post coming, regarding the EPO and the UPC. We have meanwhile been trying to figure out why the SUEPO's Web site has been so quiet as of late and the answer can be found in recent articles. We belately caught up with them this weekend (my wife and I were on vacation at the time of publication).
This one recent article in German, similar to this one [PDF] which covers a recent controversy, makes the reason crystal clear.
Please bear in mind that my German is very weak, so not only my reading comprehension is limited; the translation too is incomplete and it goes like this:
Escalating dispute in the European Patent Office

A unionist fears for her job. Is she being made an example? The Patent Office is silent regarding the allegations.

By Thomas Magenheim-Hörmann

Munich – If staff were threatened with expulsion in a big German corporation/organisation, especially a senior trade unionist and council boss, the outcry would unquestionably be enormous. Although the European Patent Office (EPO) in Munich operates based on different standards, even there the story makes big waves. "I am to be terminated and in great danger," says an employee at the centre of this situation. "I" is the council boss Elizabeth Hardon, also union chairman at the Munich-based union SUEPO and thus part of two organisations. There is a Dutch legal fight raging on for two years now — a dispute between management and staff, in which the gloves are drawn out.

At its centre is the French Office President, Benoit Battistelli, who reformed his extra-state authority with an iron fist. Once he even stopped a demonstration of the workforce. Then it was revealed that employees were spied on in the office using bugs and hidden cameras. SUEPO mails are censored. Now [Battistelli] goes after a unionist.

Recently, Hardon was summoned by an internal investigation department. Hardon should have a colleague present while being bullied. The "confidential and personal" invitation was made accessible by SUEPO, internally, before being publicised. Later, she also appeared on an external blog, bringing up SUEPO but wanting to have nothing to do with it. Thereafter, the unionist received a second letter from personnel manager Elodie Bergot, where her "reasonable steps" and "legal measures" were announced — those which one may translate as expulsion.

Hardon had violated confidentiality obligations, even if they related to their own personal matters. Hardon herself and SUEPO are now condemned to silence. Nobody is allowed to talk to journalists without permission from Battistelli. Disciplinary consequences would otherwise result.

Not all the 'cows' are at the office. "The search is only for a pretext justifying kicking them out," says a patent examiner. He wants to remain anonymous. If Hardon must go, new elections for the council are due. "But who then will still be a candidate who is not fully compliant?" Asks the EPA staff. Anyone contrary [to Battistelli] is dumped — this is the lesson that should be taught here.

The Patent Office does not wish to comment on the case. It concerns an ongoing process and about this one EPO can basically say nothing, regrets a spokeswoman. The same applies to a personnel manager at the council. Battistelli himself insisted on a previous occasion against criticism of his style of reform. He only set up what was commissioned by the 38 European member states of the Patent Office. Workers speak against persistent harassment of critical minds and even censorship. The Office insists on home visits to sick employees, which would be impossible under German labour law. But the office is not subject to national law. Therefore, it also ignored the ruling of a Dutch court, which had criticised various violations of the law in the course of reforms.

What remains is a requirement of the Bavarian Data Protection Officer Thomas Petri [and referral] to an external data protection for the office. A heavy burden is on the unionist when it comes to talks between SUEPO, which seeks official recognition of the union. For such a dialogue to become possible, the Patent Office (38 nations) and Battistelli recently committed, so as to restore the industrial peace in the house. Battistelli now shows, as in the example of Hardon, of how little seriousness this was for him to have trade unionists shake hands, says an EPA employee. The EPO staff will be back to monthly protests against the reforms and the methods by which they are to be enforced, says [one person] defiantly. Whether [Hardon] is fired Battistelli can decide, so any resistance breaks [the deal], estimates another insider. One way or another, a deplorable finale promises to take place at the big authority on German soil.
For anything that can be cited as fact, please refer to the original article in German, not the above, as the translation is of low quality and almost definitely contains serious inaccuracies (especially in particular sentences). █
Permalink
Send this to a friend