11.09.15
Gemini version available ♊︎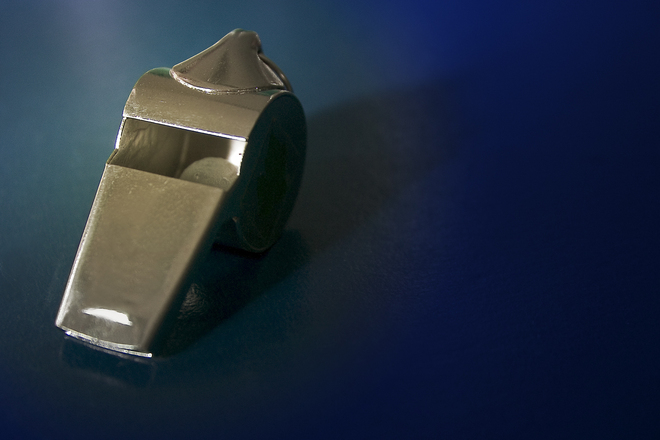 Summary: A call for USPTO staff to blow the whistle if misconduct is known and the public needs to know about it
ANY system which maximises profit by granting 'weapons' typically wants more conflict. Just like it's true for the war/defence/arms industry, it is true for the patents industry. Legal wars are a form of war and some people become incredibly rich in the process, irrespective of the outcome.
Patent systems tend to be restrained by a system that is independent from them and decides what is patentable (based on public interest), but what happens when this restraint is removed, corrupted, or made complicit with (or dependent on) the subject of restraint?
"Legal wars are a form of war and some people become incredibly rich in the process, irrespective of the outcome."A war between Apple and Android continues to rage, as covered by Florian Müller the other day. It was also covered in the media, based on the original opinion [PDF]. "Goes to show," one person wrote, "the USPTO is broken (check it out: The USPTO is Broken: New Evidence by Dr. Roy Schestowitz)."
As longtime readers may know, the USPTO is no friend of ours because it's where many of the world's patent trolls (and software patents) come from. It's also easily corruptible by large corporations, which are often running it (worse in that regard than the EPO). A noteworthy fact: USPTO search is powered by Microsoft (is Google not good enough?), which makes one wonder if the USPTO in bed with Microsoft just like EPO.
A source wrote to us regarding what this source called "USPTO corruption", citing this older article of ours.
Amidst all these exposés of the EPO we don't want readers to just assume that the USPTO is much better; perhaps it just needs more whistleblowers. We wrote about USPTO corruption just earlier this year and as we wrote at the time, the USPTO's "attempted cover-up attempts show that rather than deal with the abuses the USPTO became very much complicit."
"My invention," told us our source, "was publicly disclosed on a website/book/video [but then] was stolen and a bunch of guys got a patent on them in less than a year. How can the patent examiner [have] missed these prior arts? The examiner allowed the patent to be expedited because USPTO got paid extra money. Also USPTO is corrupt because it easily allows patent to get approved without doing a thorough search on prior art. USPTO wants people to file for reexamination to invalidate patents that cost on average $16,000. Or even worse they want people to go on litigation for the sake of profit."
We have been covering similar abuses recently, in relation to the EPO, where there is a fast track for special 'partners' (inevitably with no proper prior art search). Leaked evidence (in the form of a documents) makes it unmistakably the case rather than suspicion alone.
We would very much like to start a similar series about abuses by the USPTO, but we have been waiting for people with information like the above to come forward.
People are invited to anonymously provide us any additional details (including documents if any) to allow us to write more about this topic. The unfairness of these systems ought to end. A lot of patent lawyers have been very interested in finding out what the EPO does wrong; perhaps the USPTO too has a lot of 'dirty laundry'. █
"Software patents have been nothing but trouble for innovation. We the software engineers know this, yet we actually have full-blown posters in our break-room showcasing the individual engineers who came up with something we were able to push through the USPTO. Individually, we pretty much all consider the software-patent showcase poster to be a colossal joke." —Kelledin, PLI: State Street Overruled… PERIOD
Permalink
Send this to a friend