11.20.15
Gemini version available ♊︎
Treating EPO staff like they're ISIS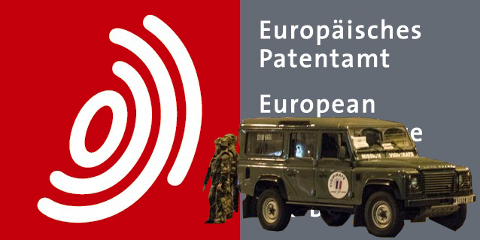 Picture from downtown Paris (this week) superimposed on EPO logo (fair use on the basis of criticism/commentary)
Summary: The increasingly militant approach of EPO management (with counterterrorism staff added to interrogate EPO staff) serves to show an organisation gone truly bonkers
THE massive protests by EPO staff will be the subject of our next post. We first wish to quote this comment which says:
This particular circular, as any other circular in this regard and all circulars regarding our strike regulations are deemed to be EPO-internal only and are therefore of absolutely no interest to the piblic [sic], and as such their exitence [sic] should not be disclosed to the public.

They are public to EPO-personnel, but include a reference to non-public elements of the case-files, which may include the results of the discussions with the EPO department having started the investigation.
We are happy to say that we got hold of the said circular and documents. These will be the subject of future articles in Techrights, probably after the "EPO: It's Like a Family Business" series. The commenter also says:
Today I saw a lot more than usual security in The Hague standing at choke points of the hallways, apparently searching for some specific employees of the EPO who may be too sick to go to their office and formally receive letters signd [sic] by the head of the personnel department.
(usually I see one at the public entrance, today I saw at least three between the lifts and the cantern, and I did not pass the public entrance. In the carport entrance there was also one waiting, where ther's [sic] usually none.)
This means that aggressive behaviour (by the management) is still the 'norm' at EPO. There is the same atmosphere in EPO buildings as there is in Paris and according to IP Kat: "Matters came to a head last weekend. The Investigative Unit of the EPO paid an unexpected visit to two officials in the Hague, who were taken away for an interview. On their return, they were badly shaken and required medical treatment and have been on sick leave since. Then two days ago, three or four further SUEPO officials, who knew they were being investigated for alleged disciplinary offences, were suspended from service and banned from EPO premises. The Office says, with a perfectly straight face, that it is not targeting the union. It just so happens that, at a stroke, the union has been decapitated — but this is simply an unfortunate and entirely incidental side effect, or so we are supposed to believe. [...] Two of the officials, who include the high-profile Els Hardon, are accused of having breached the first (and second) rule of Investigation Club: You do not talk about the Investigation Club. That's right. If you're the subject of a disciplinary investigation and decide to waive your own right to confidentiality, you have automatically exacerbated the situation and have committed a (further) serious breach of staff regulations which can lead to suspension from duties. [...] Ms. Hardon is also being investigated for having allegedly assisted "another staff member" – this being the "House Ban" Board of Appeal member suspended last year for allegedly spreading defamatory materials."
"If it wasn't for the EPO's Hubris and its alleged immunity, offices would possibly have been raided in daylight, officers in suits be handcuffs and escorted into police vans."We know the name of the person and it seems unthinkable that staff is put under gag orders and prevented from helping other staff. As Merpel correctly put it (her coverage as of later has been fantastic): "In legal terms it would appear that Mr Battistelli is the fortunate possessor of a magical artefact (Eponia is after all his domain), such as a Cloak of Immunity and Privilege. When he dons it, the law of the land stops applying to whatever activity he is currently thinking about. When he removes it, the law of the land applies with full rigour to the poor unfortunate on whom his gaze falls. I think we'd all like to have one of them."
Where on Earth are Dutch and German authorities? If it wasn't for the EPO's Hubris and its alleged immunity, offices would possibly have been raided in daylight, officers in suits be handcuffs and escorted into police vans. This is very much unjust. European laws are being grossly violated and The Hague subjected to what typically constitutes "contempt of the court".
Meanwhile, thugs from the largely-exposed [1, 2, 3, 4, 5, 6, 7] Investigative Unit are probably still tricking people into false confessions using dirty tricks, or leading them to self-incrimination or incrimination of others, based on false information or mere suppositions thrown over to induce pressure. These are the same tricks uses against Aaron Swartz, eventually leading to suicide. █
Permalink
Send this to a friend