01.02.16
Gemini version available ♊︎
Willkommen in Deutschland, patent trolls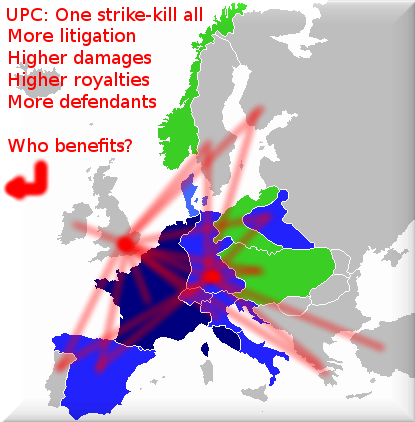 Summary: Alexander Esslinger, a patent lawyer, makes it abundantly clear that in his personal view the Unitary Patent Court would be a dream come true for patent trolls if it ever became a reality
IMAGINE a European patent system more like the USPTO. Imagine the EPO actively lobbying for a system that favours software patents. Well, imagine no more. It's already happening and it's becoming a reality. Famous trolls and patent thugs such Kyle Bass and Erich Spangenberg whom we mentioned here a week ago must be salivating over the UPC, which the EPO is already promoting in the US, even right now (with financial assistance to this promotion). Trolls are one among several outcomes of the UPC, others being expansion of scope to software and other domains. Some respected patent professionals have already explained why and how. "A new patent monetization model," Alexander Esslinger called it two days ago [1, 2], "Soon to be expected in Europe under the UPC" (Esslinger is a German and European Patent Attorney, partner at Betten & Resch).
"Trolls are one among several outcomes of the UPC, others being expansion of scope to software and other domains."To quote Esslinger's analysis, which probably view trolls as a business opportunity (for patent lawyers): "The activities of non-practicing entities (NPE´s; by some referred to as "patent trolls") trying to make money by acquiring and enforcing patents against third parties are still very controversially discussed in the US as well as in Europe. Taking up criticism that NPE´s would threaten innocent operating companies with enforcement of allegedly invalid patents, in early 2015, well-known hedge-fund manager Kylie Bass together with IP expert Erich Spangenberg devised a new patent-monetization strategy based not on patent enforcement but on challenging the validity of essential patents of target companies in the pharmaceutical area. Putting into place an aptly named "Coalition for affordable drugs" (CFAD), they targeted high-priced patented drugs. The strategy is to look for publicly traded pharmaceutical companies the value of which is substantially dependent on a low number of patents which, based on a first analysis, have questionable validity. Then they challenge the validity of these patents by way of the newly introduced, allegedly fast and low-cost (compared to a full patent trial in the US) inter partes review (IPR) process at the Patent Trial and Appeal Board (PTAB) of the USPTO, which had quickly gained a reputation of high invalidation rates. To make sure that – besides the effect of reduced prices for the patented drugs in case of success – the fund investors receive a return on investment, Bass and Spangenberg short-sell stock of the targeted pharmaceutical companies. In case the attacks on the validity of the patent(s) of such company create considerable uncertainty in the financial markets, this results in falling stock prices and thus profits for the investors. How successful the strategy turns out to be in the courtroom cannot yet be judged, since the 30 initiated IPR proceedings (by 18 December 2015) all started only in 2015 and are still pending, but it certainly was big news in the US IP monetization community. The pharmaceutical industry understandably is less enthusiastic."
"Like in the case of TPP and TTIP, herein we deal with a systematic passage of power and wealth."The UPC is a disaster in the making. It offers a lot to multinational corporations and their patent lawyers (including those opportunists inside Europe), whereas the public gets nothing out of it, except artificially inflated prices. Technical professionals suffer unless they happen to be working for these few multinational corporations (even then the 'trickle-down' effect is just a myth, as very few people hoard all the profits), which means SMEs from Europe can suffer the most.
Like in the case of TPP and TTIP, herein we deal with a systematic passage of power and wealth. We are watching — even if in slow motion — the EU patent system gradually being warped into something reminiscent of the US system, where economic disparity is gross (more so than in most of Europe). There's a new article at Vice right now and it is titled "The 11 Stupidest Patents of 2015″. Suffice to say, it is about patents granted by the USPTO. To quote the opening paragraphs: "Ever since the US Patent and Trademark Office issued its first patent for a fertilizer ingredient called potash in 1790, it's seen its fair share of dumb ideas. From bong-powered vibrators to airplane seats filled with sedatives, the archives of the USPTO serve as a testament to the reckless spirit of American innovation. Although one would expect the steady accumulation of terrible ideas to lead to more judicious patent granting at the USPTO, things have only gotten worse since 'ol George Washington signed off on the first patent 225 years ago—so bad, in fact, that Congress has found it necessary to propose a number of bills in recent years to stem the rising tide of dumb ideas.
"Those who fail to see how the EPO's management shoots Europe in the foot right at this moment in time might only see if when it's too late because unjust stuff like UPC went way too far to be revoked.""Although the patents being targeted by Congress aren't quite as dumb as using centrifugal force to launch a newborn from its mother's womb, they are a part of a growing systemic problem in the US known as patent trolling. The patent troll is a pretty scummy creature whose main m.o. is to stockpile patents, not for the sake of actually making anything with them, but solely for the purpose of extorting money from other companies for patent infringements. As you can probably imagine, most of the patents held by patent trolls (known as 'non-practicing entities' in legal jargon) are pretty dumb or trivial (take Amazon's patent on white-background photography, for instance), but nevertheless patent trolling now accounts for 67 percent of all patent lawsuits filed in the US."
There is a very strong correlation between patent scope (or patent quality) and patent trolling, as we have shown here in nearly 100 past articles. Those who fail to see how the EPO's management shoots Europe in the foot right at this moment in time might only see if when it's too late because unjust stuff like UPC went way too far to be revoked. Withdrawal from something that the public never even voted on is still feasible. European lawyers try to frantically rush it through and make it a reality before the public even knows what it is; they have plenty to hide an plenty to gain from an uniformed (unsuspecting, passive, disinterested) public. █
Permalink
Send this to a friend