01.10.16
Gemini version available ♊︎
Publicado en Europe, Patents a las 8:18 am por el Dr. Roy Schestowitz
Contra EPO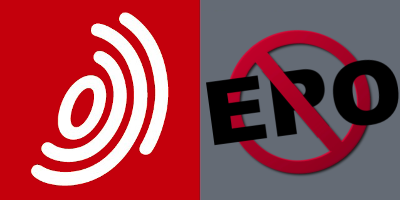 Sumario: Antiguas quejas contra la discriminación contra los Hispano hablentes, ha quedado demostrado actualmente al conversar con personal de la OEP.
El Español – es de acuerdo al algunos criterios y dependiendo las definiciones que uno escoge – el lenguaje más hablado en el mundo (basado en el número de países donde es lengua primaria). Techrights en Espańol es su segundo lenguage tiene árticulos públicados en Español
"El lenguaje Espańol raramente existe en la OEP. Definitivamente NO es tratado como debería y uno no necesita mirar muy atrás para ver como la OEP, basada en Munich máltrata a su personal Espańol."La OEP díscrimina contra muchos lenguajes Europeos, pero sólo los Espańoles e Italianos tienen los huevos de hacerlo notar, en íncluso pelear acerca de esta materia tán importante (PERPETUAR POWER A TRAVES DE LA DOMINACION DEL IDIOMA, como los ingleses lo han hecho por siglos). La cuenta de Twitter de la OEP SOLO ESCRIBE EN INGLES, promoviendo traducciones automatizadas al día siguiente, pero éstas son inferiores. Aquí esta la herramiente ellos recomiendan (advertencia es una link de la OEP). ¨Tradusca Patentes,¨ dijeron en Twitter hace unos días, ¨viene con un corrector automático, que te permite proponer mejores traducciones¨ (bueno eso es ´crowdsourcing´ hacer a los Españoles ¨voluntarios¨ de las grandes CORPORACIONES – tóntos útiles- para sus propias ganancias).
El lenguaje Espańol raramente existe en la OEP. Definitivamente NO es tratado como debería y uno no necesita mirar muy atrás para ver como la OEP, basada en Munich máltrata a su personal Espańol. Uno de ellos tuvo una crisis nerviosa un par de meses atras después de haber sido maltratado por estos hijos de [1, 2, 3, 4, 5, 6, 7].
"Al menos pueden demandar que la OEP, no trata al Español como inexistente"Reciéntemente nos enteramos de otras formas de DISCRIMINACION contra los Españoles en la OEP. ¨Estaba leyendo este artículo,¨ una persona nos escrbió acerca de un artículo que publicamos en Español hace unos días¨, esta persona nos dijo ¨Pedí por Espańol como lenguaje de oposición, cuando estuvimos oponiéndonos a la Regalo de Amazon patente¨, ¨Recibimos una ´amable´ llamda teléfonic así como un corre eléctronico de la OEP diciéndonos que si queríamos Español, teniamos que pagar por un traductor, mientras que alemanes o franceses no tendrían que pagar por traducciones simúltaneas durante los proceduras orales.¨
Esto es revelador? No es cierto?
Decidimos investigar más profundamente esto por que es una queja común (compartida entre miembros de la Unión Europea); sólo los Espańoles tienen suficientemente voz fuerte (más población) y un buen argumento para incluir su lenguaje por que es increíblemente popular, (segundo lugar después del Chino, Arabe, e Inglés depende de la definición de popularity). Se hizo notar este prblema cuando se debatía la viabilidad del Corte Unitaria de Patentes una vez. La gerencia de la OEP quiere aprobar la UPC a todo lugar (CABILDEA POR ELLO ABIERTAMENTE), pero el pueblo Espańol si se organiza apropiadamente puede y DEBE evitarlo. Al menos pueden demandar que la OEP, no trate el idioma Espańol como inexistente. Algunos grupos ya se han quejado pero nada resulto del esfuerzo.
¨Envíamos esta solicitud en Espańol,¨ nos escribió la misma persona (cuyo nombre puede encontrarse en las links si uno esta desesperado de saberlo), y la traducción al Inglés es suya. Pobrecito, termino bajado miles de páginas en la OEP register para ubica el PDF correcto" en este enredo. La carta original es la siguiente (de la FFII):
Bruselas, 07 de mayo 2012

Sujeto: EP927945: el lenguaje de la vista oral de 12 de junio 2012

Estimados Miembros de la Oficina Europea de Patentes,

FFII eV ha recibido su carta del 16 de abril 2012 en relación con la elección de las lenguas de los procedimientos orales con respecto a nuestra oposición a la patente de regalo de Amazon EP927945.

Tenemos la intención de usar el español tanto para los procedimentos por vía oral (habla) como para la interpretación simultánea (escucha).

Saludos cordiales,
Y en Inglés:
Brussels, the 7 may 2012

Concerns: Amazon gift patent EP927945: language of the oral
proceedings of 12 June 2012

Dear Members of the European Patent Office,

FFII eV has well received your letter of 16th of April 2012 regarding the choice of languages of the oral proceedings regarding our opposition to the Amazon gift patent EP927945.

We intend to use Spanish for the both the language of the oral proceedings (speaking) and the simultaneous interpretation (listening).

Best regards,
¨La link para la registración de la OEP está aquí, dijo desafortunadamente su website es inferior que tu no puedes bajar el PDF con wget. Aquí esta nuestra respuesta a su rechazo. Tratando de encontrar el original en texto pleno…¨
"Qué mierda está pasando, cómo devino a tan malo, y porqué los Españoles no vociferan acerca de esto?"Su respuesta oficial esta aquí.
¨Tratando de recuperar el correo electrónico de (la persona) quien es Español,¨ escribió, ¨cuando recibió una llamada telefónica de la OEP que resulta en la siguiente antigua carta…¨
Lo suiguiente no necesita explicación:
Querido jurado,

este correo es privado, no lo replique, etc.

Una seńora hablando alemán de la OEP, acaba de llamar a la oficina. Hablaba como si siguiera un libreto. Pregunta de parte mía, respuesta de ella. Muy bien entrenada. He resumido.

El señor [redactado] ha enviado un fax en Español :-), pero el ESPAÑOL NO ES UNO DE LOS TRES LENGUAJES ACEPTADOS POR LA OEP, Por supuesto dije esto NO ES BUENO para las personas de habla Española en la Unión Europea, bla, bla. La clásica respuesta las tres lenguas oficiales de la OEP, bla, bla, adicionalmente la OEP ofrece a no costo una lista de traductores bla, bla, que podemos contratar (Y PAGAR a diferencia de los demás). Pedi por esta respuesta en escrito, ella dijo que no puede responder a un fax en Español, deberíamos enviarle un fax en uno de los tres lenguajes oficiales de la OEP y luego ella respondería. Pidió que lo hagamos rápido, ya que no se puede enviar faxes en Español desde la OEP.
En conclusión, extrañamente el Español esta siendo relegado por la OEP, mientras que el Francés (con mucha menos naciones que puedn hablarlo) es un lenguaje ¨oficial¨. Lo mismo para el Alemán que no mucha gente lo habla (excepto en Alemania misma). SON LOS MIEMBROS ESTADOS TRATADOS FAVORABLEMENTE DE ACUERDO A SU PODER FINANCIERO opuesto a su audiencia internacional y local (Portuges es más popular que Frances y Alemán, incluso combinados por otro criterio)? Qué mierda está pasando, cómo devino a tan malo, y porqué los Españoles no vociferan acerca de esto?
¨La Oficina Europea de Patentes nos está JODIENDO! Ya es tiempo de hacer algo. O se corrije la situación o Espańa debe abandonar la Unión Europea y su jurisdicción¨
Un Hispano hablante! █
"La Oficina Europea de Patentes es una Corrupta, Maliciosa Organizacion Que NO debería Existir"
Permalink
Send this to a friend