10.19.16
Gemini version available ♊︎
The management's convenient illusion that there are no disgruntled employees, just "SUEPO"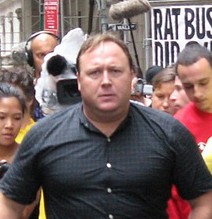 Becoming as k00ky as Alex Jones now… (photo source)
Summary: Attempts to blame SUEPO, the staff union of the EPO, even though SUEPO has nothing to do with articles that are critical of the EPO while many thousands of EPO employees are disgruntled
THE MANAGEMENT of the EPO has made many enemies. It even encouraged me to write a lot more about the EPO (as I have) when it sent me threatening letters.
Team Battistelli deals with critics in the same way the US government deals with Wikileaks; it just finds a boogeyman (like Russia) and then attacks the messenger relentlessly.
This short post is a brief clarification which is probably necessary as the EPO seems to be misleading the media. The EPO's Boards of Appeal, according to this, were "celebrating all last night. Don't know why."
We can imagine that they too view EPO management as an enemy and who can blame them? Watch the dismissive attitude towards AMBA and the endless attempts to dismiss a judge despite it being against the rules. Regarding SUEPO, another famous victim of Team Battistelli, we have noticed something odd. Last night its Web site had a link to Techrights, but it was totally gone on Wednesday morning with an edit. Someone at SUEPO has basically removed the link to Techrights. We don't know who did this and why.
Techrights NEVER, as far as it is aware, spoke to anyone from SUEPO, but some people who are members of SUEPO (there are thousands of them) probably speak to us sometimes. Why was the link removed? Fear? Almost for sure. Moreover, it is not unthinkable, given what happened last year (Heise and FOSS Patents censorship), that EPO management had demanded SUEPO that should take down link, whereupon it did without much resistance. That's just a guess.
Censorship by intimidation at the EPO is a very common routine. They did this to me too, demonstrating that not even outsiders are immune from Eponia's army.
Earlier today we asked someone (openly in Twitter) who has contacts at SUEPO to ask them if the links to Techrights were in fact removed after pressure from EPO management. We wish to know in order to highlight the modus operandi of Team Battistelli.
"I will ask my contact why Techrights articles have been removed from the SUEPO website," one anonymous person told us, and "will inform you as soon as I get an answer."
It didn't take much time to get an answer, so it's probably not much of a mystery either. "I've heard that the removal of publication is linked to the papers on Kongstad," the person told is, "since during the Administrative Council's Jesper whined telling that he was targeted by a smear campaign to which Battistelli immediately answered and took position in favor of him of course to protect him no doubt here. However, since SUEPO has nothing to do with those publications it decided to state it loud and clear. It is a tricky situation but keep in mind that SUEPO always tries to protect their staff and itself as best as possible. There is a serious risk for SUEPO that they immediately try to drag it in the mud. Hope this makes sense for you."
So the EPO's management now tries to blame all its ills and abuses on "SUEPO", even when SUEPO has nothing to do with them and has nothing to do with material that we publish. The EPO's management has gotten so desperate in its attempt to gag or suppress Techrights. I spoke about it with an insider who agrees. "Exactly," we were told, "that's the card they play!"
Well, the EPO must drop its fantasy that SUEPO is behind EVERYTHING! This is totally fictitious. Many thousands of EPO workers are disgruntled and it's not because of SUEPO but because of their management.
Previously, SUEPO did publicly state that links had been removed due to fear of reprisal, but it did not do this today. When a gag order is part of the censorship (the EPO did this to me, as part of the threatening letters it sent) we know that we're living in a world like the one envisioned in the book '1984′.
One reader of ours, who has nothing whatsoever to do with the EPO and is not fluent in reading Danish, attempted to provide us somewhat of a translation of the Danish article. Based on that, Kongstad attempted to shamelessly blame SUEPO. The article started with something along the following lines: "A contact from the central EPO labor union, SUEPO (Staff Union of the European Patent Office) rebuffs in a mail to Berlinske that SUEPO is collaborating with the critical Internet blog Techrights.com on harassment against the EPO chairman of the board Jesper Kongstad, who is director for the [Danish] Patent- and Trademark Board. The one in question has according to his own statements been exposed to reprisals from management and therefor wishes not to put their name forth."
What a nerve those people have, erroneously blaming SUEPO without even a shred of evidence. That's just how bad things have become at the EPO. No wonder so many people are being wrongly accused. It's a farce of a system. █
Side note: for those who wonder why our site has been inaccessible or barely accessible this past week, it's definitely not self-induced error and we are investigating who is behind it and responsible for that. We've fought hard for a week just to keep the site online.
Permalink
Send this to a friend