06.29.17
Gemini version available ♊︎
Christoph Ernst will take over the Organisation within 3 months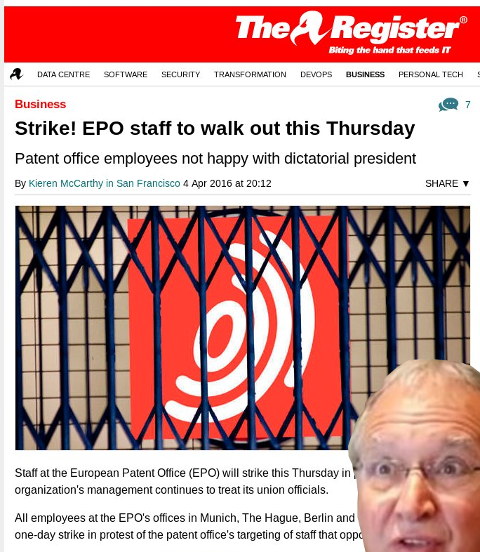 Battistelli bragged to the Council about lack of strikes (after he had passed rules to restrict those), but for the second year in a row he is the cause of strikes
Summary: The demise of the EPO as a desirable employer, as an accountable employer, and a reputable employer that actually examines patent applications properly to assure high quality of European Patents (EPs)
SUEPO has not been saying much recently, but the EPO will be on strike tomorrow and Mr. Ernst has just been chosen to replace Kongstad. As far as we are aware, no media has covered that; only one publication, IP Watch, mentioned the strike, which will last 4 days (including the weekend).
Citing the report from IP Watch, which in turn references Techrights, one person wrote (correctly) that "EPO staff will be on strike soon again (sadly) since there is still absolutely ZERO social dialogue but more of the same despicable authoritarian policies, in an Orwellian atmosphere by the current French direction team."
Another person indicated that he or she is looking to leave the EPO. Here is the full message:
The new disciplinary rules have been criticized by the anonymous "Flyer team". Internally, we have access to the proposed text. It foresees absolutely no check and balance. On a superficial reading, it appears reasonable as there are various committees which are supposed to give an opinion. But it is like patents: the claims actually define a very short procedure after which the President can fire you without justification and without recourse.

It is an open secret in the Office that the President is trying to get rid of everyone over 40 and replace them with far cheaper examiners, younger and more docile. Word is that they would be on 3-years contracts, but that is not even necessary if they can be fired at will.

But firing people is always messy and it is far easier if they leave "voluntarily". To ensure "voluntary" compliance, the title under which you can now be fired is called "professional incompetence". "Professional incompetence", as defined in the proposed text, simply means you failed to meet the production objective your superior set for you. It is public knowledge that last year objective was to grant 40% more patents.

But everything will happen behind closed doors. I expect that the older examiners in my directorate will have a nice visit of their new boss after summer which will simply tell them that they can leave "voluntarily" or get fired for "professional incompetence" before the end of the year. Because being declared "incompetent" by the EPO means that nobody will ever hire you for doing patent work, people will "voluntarily" comply.

Signed: an examiner over 40, looking for a new job outside the Patent world.
With Battistelli at the helm, many layoffs seem inevitable anyway. Maybe that was just Battistelli's intention all along; maybe he wanted to destroy the EPO and bring rise to the UPC.
Either way, staff is truly fed up and today is the last day at the EPO until Tuesday (for those who go on strike). Why is the press ignoring this? We already notified some people in the media, yet they seem quite reluctant to point this out. Shouldn't stakeholders be informed? Why is the EPO saying nothing (in its news section, Twitter and so on)?
Attention has meanwhile turned to Christoph Ernst. Ernst's "main quality seems to be his aptitude to discretion which in a corrupt organisation like the EPO," one new comment says today. It was composed yesterday, but it didn't show up until today (due to moderation). Here it is in full, hidden well inside a very old post — the final post:
News from the 1st day of the Administrative Council in Den Haag :

1 – Christoph Ernst (DE) former head of the German Delegation at the Administrative Council of the EPO is the new Chair of the Administrative Council.

Mr Ernst is a man with a proven record of performance: indeed his silence during the entire mandate of Battistelli was remarkable, close to perfection. Mr Ernst never found the need to voice concerns when colleagues committed suicide (like for 10 days in Munich), when fundamental rights of staff were violated, when the DG3 Judge was suspended (more than 2 years…), when 3 staff reps were fired and other 3 downgraded after Orwellian trials, when quality of patents dropped due to unhealthy production pressure etc etc etc). His main quality seems to be his aptitude to discretion which in a corrupt organisation like the EPO explains that he just got promoted.

2 – Alberto Casado (SP, current VP2) becomes new VP1 in replacement of the flemmish dinausor Minnoye. Casado is known (and praised) for its exceptional competence in the various Patent Procedures as well as extensive mastering of Patent Law. No doubt that he was THE expert to task with managing 55000 highly educated examiners and formality officers. Some will say that his capacity to express himself in English may be close to that of Manuel in Falwty Towers but they are pathetic losers. In fact Alberto Casado speaks fluently Spanish which is alreaddy something.

And during this time, as the Titanic was sinking, the Orchestra was playing music…
"Mr Ernst (DE) is the new chief of AC at the EPO," said the next comment. "Is this the beginning of the end for the French dictator?"
There is at least one more year of Battistelli; we very strongly doubt Ernst will work to oust him any earlier than that.
"Battistelli and Bergot ought to see their immunity lifted and sued for what they did," said the next comment, which is also quoteworthy:
Battistelli and Bergot (PD HR) clais that psycho related sicknesses at EPO have decreased… Sure since they fire (mentally but not only) sick staff.

Fortunately the first case has arrived at ILO this week and the judges are not amused : http://www.ilo.org/dyn/triblex/triblexmain.fullText?p_lang=en&p_judgment_no=3887&p_language_code=EN

Battistelli and Bergot ought to see their immunity lifted and sued for what they did
We are going to examine what comes out of ILO. This may take some time to analyse. Either way, ILO is in many ways viewed as complicit (and rightly so, as we have shown recently). Secret meetings with EPO management and not with staff representatives of the EPO say quite a lot about ILO's bias.
Ernst gives glimmer of hope, but not hope that Battistelli will be ousted, held accountable etc. He will hold Battistelli accountable as much as Obama held Bush accountable (e.g. for torture, Iraq war). As we pointed out before (last year), Ernst has little to say on Battistelli's proposals (usually abstains), almost nothing to say about patent scope, and based on what we have shown here recently, the EPO is overgranting for those who are overpatenting, devaluing the whole lot (EPs) with shoddy, rushed assessments (the fault of management that pressures examiners to do this). Even the USPTO is stricter than the EPO now.
Here is a spammy 'article' or press release from yesterday. Is it still something to show off when an EP is granted/confirmed/defended? Considering how shallow the examination (or search) can be these days? Even the examiners are complaining; they must do this or lose their job (which may also mean losing one's home, relocating the whole family to another country again).
We were deeply disgusted to see this tweet from CIPA yesterday. CIPA, as we put it last night, is a "pile of trash pretending to be a legitimate lobby" (also lobbying a lot for the UPC by lying to and manipulating officials). CIPA has been running over everything, including truth itself, for the UPC (the subject of our next post). It recently infiltrated IP Kat as well.
"We have "grave concerns" about EPO proposals to exclude certain organisms from patentability," CIPA wrote, linking to its site and copying on it some patent maximalists, even IP Kat.
Well, the EPO publicly admitted that it went too far and decided that obeying laws was more important in this case than faking 'production'. █
Permalink
Send this to a friend