09.21.17
Gemini version available ♊︎
Forget these photo-ops, he doesn't work "for the children" (patent indoctrination starts early)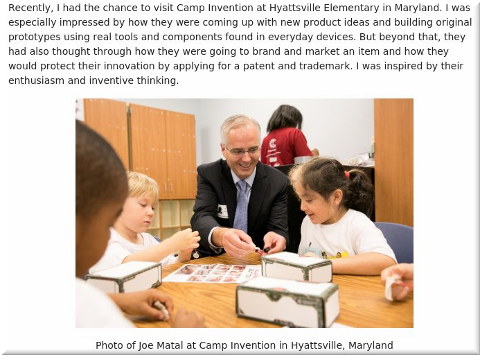 Source: USPTO's Leadership blog
Summary: Even though the burden of proof ought to be on one who grants a monopoly, the legal costs are being offloaded onto those who challenge an erroneously-granted monopoly (even if the court sides with the challenger)
YESTERDAY we wrote about a bogus Google patent making its way through the system. The Polish challenger could not afford legal advice and therefore it seems likely that Google will get its way. Such is the nature of the system today and it seems to have just gotten worse. As one firm put it a few days ago (emphasis below is ours):
The US Patent and Trademark Office (USPTO) recently began making applicants who challenge agency rulings on trademarks and patents in district court pay the attorney fees and expenses of the agency, regardless of the case's outcome. This was supported by the Fourth Circuit Court of Appeals for trademarks in 2015, and more recently by a panel of the Court of Appeals for the Federal Circuit for patents in Nantkwest, Inc v Matal (June 23 2017). However, the Federal Circuit appears to be having second thoughts, as in August 2017 it vacated the Nantkwest panel decision of its own accord and ordered a rehearing by the full court.
This is really bad. So it's going to get a lot harder for anyone other than large corporations to point out errors in examination. In addition to this, there's now a big lobby (led by trolls and parasites) against PTAB, which has made challenges more affordable.
Whose system is this and what is it for? It was supposed to correctly issue patents and revoke/reject applications where triviality/prior art, for instance, could be demonstrated/shown.
The USPTO grants patents which certainly look like parody sometimes. Consider this example of a patent, spotted by Dennis Crouch the other day. Notice the length:
Thought pioneer Dan Abelow fits within an interesting designation. So far in 2017, his U.S. Patent Application No. 2012/0069131 – mysteriously titled "Reality Alternate" – is the Most-Oft examiner cited U.S. prior art reference. The document – now patented as U.S. Patent No. 9,183,560 – covers a method of providing "a portal for a user … to be present simultaneously in two or more different non-fictional alternate realities that are distinct from a non-fictional physical reality of the user." [Here, I'm looking at Examiner citations rather than those submitted by Applicants]

[...]

In addition to being written in a way that draws diverse connections (helpful for obviousness conclusions), the reference is also 750 pages long! (The patentee paid an extra $4,000+ in filing costs for the extra page length). One of the best patent attorneys in the country – David Feigenbaum – filed this case and helped push it through to issuance.
What has become of this system? If it openly discriminates against those who are without deep pockets, then certainly it will promote the perception of protectionism (for the rich) rather than innovation. █
Permalink
Send this to a friend