10.23.17
Gemini version available ♊︎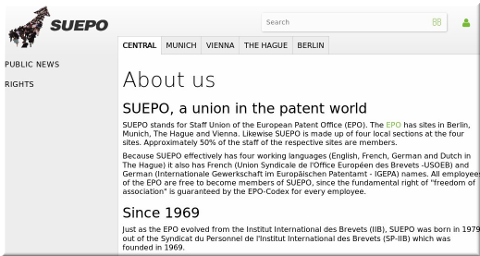 Summary: The staff union of the EPO (SUEPO) speaks of increasing "production" pressure, which is certain to result in low-quality European Patents
LAST night we wrote about worsening quality of patents (European Patents) — a problem that goes several years back and went unaddressed. Right now, circulating among EPO staff is the following document. It shows that not only is Team Battistelli unwilling to discuss the problem; it's about to make things worse:
Introducing the (brave) new DG 1

Dedicated to an end-to-end staff pressurising process (1)

Dear SUEPO Members, dear Colleagues,

DG1 has been reorganized in "sectors", each comprising several large directorates. VP1 has announced on the Intranet the "reallocation" of DG1 Directors to several posts in DG1: the first batch in early August, the second in late September.

This was Mr Minnoye's last gift to the Office. For many, a poisoned gift. As of 1 January 2018, about half of the DG1 directors will be stripped of their managerial tasks. A persisting rumour has it that, before leaving, Mr Minnoye even drafted a list of DG1 directors he explicitly wanted to exclude from any chance of being assigned to large directorates. A list that, we hear, was amended and expanded by PD43 after Mr Minnoye's retirement.

We have no insight in the "criteria" used, but we have noticed that among those stripped of their managerial function are all the DG1 directors appointed by the Staff Representation to the Disciplinary Committee (as required by the Service Regulations!) over the past 3 years. Conversely, we have to note that three of the DG1 principal directors appointed to the Disciplinary Committee by the President have been promoted to COO 2…

This observation correlates with a new phenomenon: DG1 directors appear reluctant even to exchange pleasantries with staff representatives they meet in the cafeteria, requiring furtive contacts, as if they had been forewarned that any indication of "proximity" may be bad for their career.

__________
1 Our greatest thanks to the inspiring cover of the latest Gazette.
2 Ms Romano-Götsch: Job Group 2 DC appointee since 2016; Ms Seegert: DC Alternate Chair since 2015 until today (now also appointed Alternate Chair of the Joint Committee on Article 52 & 53, i.e. the new body dealing with "professional incompetence"); Mr Philpott: DC Chair in 2014.

---

But of course all of this is "pure coincidence", as Mr Minnoye would have said.
Meanwhile, there is not a week in which we do not receive bad news:
- Examiners in profound distress (and we do mean profound),
- Sick colleagues being demeaned and abused, brought to the brink of collapse,
- Overzealous team managers abusing their new position,
- High tensions within Examining Divisions,
- Formality Officers about to crack under the strain, etc.

There is no sign of improvement in the short or even middle term. The production/productivity of the Reference Examiner will again rise in 2018, and so will management expectations. From 1 January 2018 all new EPO colleagues will be recruited under 5 years' renewable contracts3. There is no need for a crystal ball to predict that the production pressure on examiners recruited under these conditions will be enormous, resulting into further production increase that will translate later again into higher production demand for all examiners4. This sky-is-the-limit madness will unfortunately not stop on 30 June 2018.

Is this the Office's way of "modernising" itself? No, this is an out-dated, inefficient and above all dangerous management style that increases the level of psychosocial risk, which was already at an all-time high beginning of 20165.

It is now important to protect yourself, as management won't. You are not responsible for management's failure to organise the work in a way that is respectful for all staff, including the weakest. It is not for you to pay their bill. We intend to soon inform you on how to best protect yourself (and your weakest colleagues) in the current circumstances.

SUEPO Committees Munich & The Hague

__________
3 Cf. CA/103/17 and CA/103/17 Add. 1
4 which poses even further challenges to the quality of our "products", but this is not the subject of this paper.
5 Cf. the results of the Technologia 2016 EPO Staff Survey
How much longer does the EPO's management think it can fool stakeholders? The number of patent applications is declining and work is running out. Many new recruits probably have no job security; even a two-year contract might not last that long.
"How much longer does the EPO's management think it can fool stakeholders?""In so-called 'social' media," I recently told someone, "I think it's [low patent quality] already widely known. I didn't know that even in the flea market people would know; I used to try to push journalists to cover (waste of time)."
The only publication which occasionally speaks about low patent quality is The Register. German and Dutch media never even bring up the subject. We can only venture to guess why…
"Mr. Campinos will be under incredible pressure to turn things around and prove his critics/sceptic wrong."We still have a LOT of things left to publish. Possibly thousands of articles in the coming few years. EPO staff just needs morale and patience. Europe cannot carry on without a patent system (national patent offices may be insufficient), so one way or another things will eventually be rectified.
Mr. Campinos will be under incredible pressure to turn things around and prove his critics/sceptic wrong. We hope he'll prove everyone wrong (but strongly doubt it). Dr. Ernst is still in denial about the patent quality problem (as per reports from a recent event), but ultimately he'll need to acknowledge this. █
Permalink
Send this to a friend