01.26.18
Gemini version available ♊︎
This Kat is no watchdog but a lapdog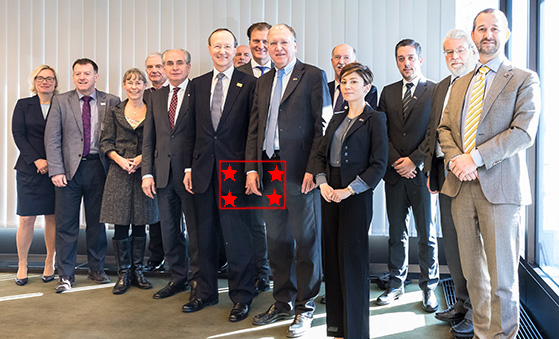 Last night's photo op shows Stephen Jones almost holding hands with Battistelli
Summary: The sad state of affairs in the patent microcosm (or litigation lobby), as Team UPC not only tolerates human rights abuses but also contributes to them by showing support for Battistelli (an alliance of convenience)
WHEN Stephen Jones entered IP Kat (last summer) we immediately complained that it would further embolden censorship of EPO scandals and contribute to UPC lobbying (already rampant there, mostly due to Bristows and more recently also Eibhlin Vardy).
IP Kat's pushing/advocacy/promotion of the UPC (usually by Bristows) was further bolstered when it began censoring comments critical of the UPC and refused to cover EPO scandals, even deleting entire threads of comments because they criticised abuses at the EPO. Bristows staff was limiting comments while pushing their lobbying agenda (and actually deleting 'unwanted' comments). In their own blog, Bristows does not permit comments at all, so yesterday's post, for example, will remain unchallenged in spite of spin and inaccuracies.
The sad thing is that in a sense, the Kat has been participating in the EPO's attacks on the Boards of Appeal every time it promoted the unconstitutional and abusive UPC.
Where does the above photo come from? The EPO's Web site (time-stamped 8 hours ago). It's specifically aimed at promoting the UPC (warning: epo.org link) and even mentions it explicitly:
High-level representatives and experts of the EPO, led by President Benoît Battistelli, met yesterday in Munich with a delegation of the Chartered Institute of Patent Attorneys (CIPA) headed by its President, Stephen Jones.

The meeting allowed the EPO and CIPA to confirm that Brexit will have no consequence on UK membership of the European Patent Organisation, nor on the effect of European patents in the UK. Accordingly, European patent attorneys based in the UK will continue to be able to represent applicants before the EPO.

[...]

Both the EPO and CIPA acknowledged the good progress made by the UK on the ratification of the UPC Agreement, which it is expected to ratify in the coming months. 15 EU member states have ratified the agreement so far, and more are expected to do so soon.
I used to respect and extensively link to IP Kat (not just on patent matters), but seeing what happened to it after Jeremy (the founder) left is worrying enough that I barely link to them anymore. They have become almost like a front group for Team UPC, CIPA/Stephen Jones etc. and they literally meet with the worst crooks at the EPO (like Lutz and Battistelli, pictured above) to help them. █
Permalink
Send this to a friend