02.24.18
Gemini version available ♊︎
Berkheimer and Aatrix are 'old' and the US patent microcosm has become a lot like the Trump administration, habitually insulting judges (even racially, however subtle that may seem)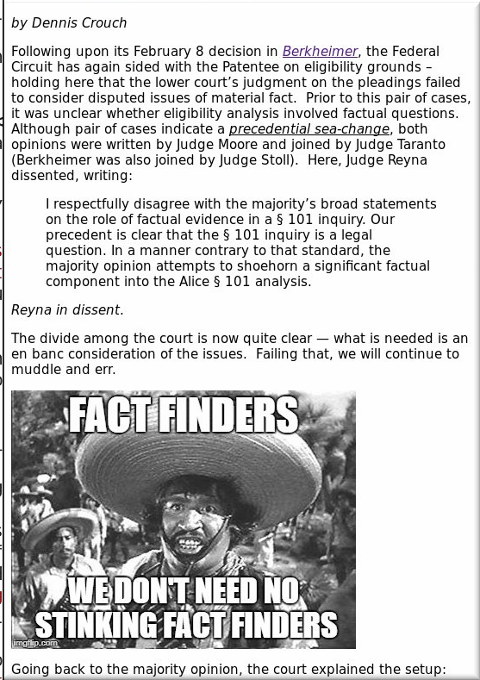 Loss of civility (the Internet never 'forgets'). The patent microcosm also insults judges (the above has been removed since), perpetuating the long-running insult/innuendo that judges who invalidate patents don't care about facts or are "impotent" (in the case above, there's also a racial slant). At the same time, judges that are actually caught engaging in serious misconduct (and call other judges "death squads") are defended by them because of their pro-trolls, pro-software patents stance. At the patent microcosm's spheres, bias is revealing. They want more and more patents and they vehemently hate quality control for patents. They even call rejections and invalidations "kills" and call judges that they don't like a "cabal that rubberstamps these rejections" (are examiners a "cabal that rubberstamps low-quality applications"?); Only yesterday one of them called judges the "death squad" CRAWFORD, MOHANTY, BAYAT," in effect comparing patent judges to executioners, which is not fair and far from respectful.
Summary: The intentional lies, in addition to insults directed at judges who push back against patent maximalism, represent a new low for the US patent 'industry'; like a pack of wild hyenas they just gang up against those who do the rational thing and what makes economic sense for their country
THE US patent system is no longer open to software patents. No matter how many of them the USPTO will allow to slip through, PTAB and district/federal courts will almost always say "no". In our next post we'll talk about the consequences of this.
We are very disturbed to see patent law firms succumbing to the tactics of Team UPC. Truth no longer matters to them, so they just lie whenever that suits their financial agenda. They hope that by misleading potential/prospective clients they can make a quick buck. US patent law firms try to 'sell' services around software patents (applications, urging clients to sue with weak patents and so on), whereas Team UPC offers consultation around/about a system which will never exist.
If those who are reading this at the moment are patent lawyers/attorneys, we suggest you watch out because you unwittingly cause a legitimacy crisis for your whole profession. By going overboard, as many of you do, you inevitably cause clients to distrust if not shun you. Be honest. Be helpful. Don't be so greedy and self-serving. Truth should be paramount, not short-term profits.
This legitimacy crisis would be further exacerbated by a pattern of judge-bashing. It makes sense for friends of the judge-bashing Watchtroll to not only bash judges for their rulings but also for their heritage. Just like 'their' President Donald Trump who called/labeled a US-born judge "Mexican" after he had ruled against him. A few days ago Dennis Crouch apologised for saying something potentially racist about judge Reyna. It's no secret that judge Reyna received some publicity recently because of a major case — one whose outcome isn't quite as major.
Joseph Robinson and Robert Schaffer wrote about this at Watchtoll and so did many others (we responded to them in our posts about Aatrix [1, 2]).
Long story short, patent law firms want us to believe that everything has just changed. Here's Watchtoll writing about it (4 days ago) and IAM cross-posting its nonsense about Aatrix a few days after Richard Lloyd had delivered his usual propaganda. Sites like Patently-O, Watchtroll and IAM are the most notorious cornerstones of the patent extremists' echo chamber. They seem incapable/unable to objectively report on cases as objective reporting might upset/alienate subscribers/regulars.
Here we have Patently-O's Dennis Crouch repeating the myth that Alice is now "in a somewhat confused state." It's a lie. Cherry-picking and distortion is all that boils down to. To quote: "Following the Federal Circuit's decisions in Berkheimer, AATRIX, and ATS, the role of evidence and factual conclusions in the eligibility analysis is in a somewhat confused state. That setup makes Cleveland Clinic's recent petition for writ of certiorari quite timely."
Actually, it's not confused at all. Aatrix was also boosted by Charles Bieneman, whose less-than-a-year-old blog said the following (also about Berkheimer, not just Aatrix):
In vacating a motion to dismiss because it disagreed with a district court's finding that patent claims were "invalid as directed to ineligible subject matter under 35 USC § 101," a Federal Circuit panel has made explicit a debate about whether patent-eligibility is a question of law or requires factual determinations. Aatrix Software, Inc. v. Green Shades Software, Inc., No. 2017-1452 (Fed. Cir. Feb. 14, 2018) (precedential). Judge Moore, joined by Judge Taranto, wrote the majority opinion. Judge Reyna concurred in part and dissented in part. As noted in the PatentlyO blog, the outcome of this debate, raised in Judge Moore's recent opinion in Berkheimer v. HP, Inc., has important ramifications for litigants seeking to resolve patent disputes at the pleading stage. But more than that, what if patent examiners were required to make explicit factual findings in order for a patent-eligibility rejection to be sustained?
Berkheimer was covered here before, e.g. in [1, 2, 3]. It did not mean what the patent microcosm wants us to think (we did look at the original decision). Here we have a patent maximalist saying that "Del[aware] Judge holds home audio patent invalid under Alice; Said Berkheimer did not apply: https://dlbjbjzgnk95t.cloudfront.net/1014000/1014596/04313897444.pdf …"
Yes, because it barely matters at all. But law firms will carry on mentioning it for weeks if not months.
Dechert LLP's Robert D. Rhoad said (on Aatrix Software, Inc. v Green Shades Software, Inc. and Berkheimer v HP Inc.) that it's a "blockbuster". It's not. The patent industry likes (quite frankly as usual) to turn something minor into what they call a "blockbuster"; a reminder that lawyers are more like liars much of the time?
This was not a "blockbuster" and it wasn't even a Supreme Court decision. This characterisation is therefore patently false. This is typical spin from the echo chamber. We wrote half a dozen rebuttals already, but that won't matter. Rhoad paid to push his nonsense into several sites [1, 2] that are being read primarily by lawyers.
So did Michael Dorfman from Katten Muchin Rosenman LLP, who perpetuates a myth in the National Law Review. His final words are: "Taken together, these decisions indicate that the Federal Circuit is now more inclined to take a closer look at Section 101 decisions that are based on less than a full trial record."
But that has not really happened since. As even gross patent maximalists put it, "PTAB continues to thumb nose at CAFC regarding requirement for fact finding in 101 rejections…"
Not only PTAB but also CAFC itself. As noted a short time ago by Patently-O, Judges Moore and Stoll already pour cold water on these patent maximalists who were Berkheimer and Aatrix fantasists, thinking software patents would somehow be spared. To quote Patently-O (whose bias is in favour of the maximalists):
The recent non-precedential opinion of Automated Tracking Solutions v. Coca Cola provides something of a backstop to AATRIX and Berkheimer. The ATS panel includes Judges Moore and Stoll – the two leading judges pushing for more formality in considering factual conclusions underlying an eligibility decision. In ATS, however, the panel affirmed a district court judgment on the pleadings that the asserted patent lacks eligibility. The panel restated its prior conclusions that "patent eligibility under § 101 is a question of law that may contain underlying issues of fact." However, in this case the court found no material facts in dispute.
Bottom line is, whenever someone brings up Berkheimer and Aatrix (which will certainly happen for quite some time to come) be sure to bring up the broader picture. We already live in this post-climatic period, wherein Berkheimer and Aatrix are old news and barely worth entertaining as references in a court case.
Another important point is, don't let patent radicals get away with racism (even if subtle and thus deniable). If they found some serious misconduct, such as the judge being married to a client of the plaintiff/defendant, then fine, point it out. But insulting the intelligence of judges (or their race) because you do not agree with them is a new low; we gave some examples of that in recent years (insinuating judges had dementia, in essence passing medical judgment on people whom you never examined, let alone met in person). █
Permalink
Send this to a friend