06.10.18
Gemini version available ♊︎
Hours ago: Do Know Evil? Then Stop Patenting Software, Google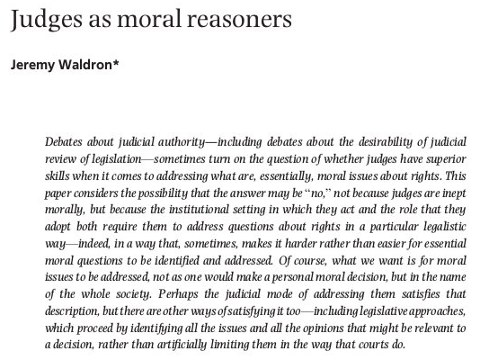 Full paper: Judges as moral reasoners – Oxford Journals – Oxford University Press [PDF]
Summary: PTAB is taking a lot of heat (albeit always from patent maximalists) for simply applying the law, which ought to have been applied by the Office at the time of examination; confidence in US patents depends on the Office's ability to discern/distinguish patentable subject matter from clearly unpatentable subject matter
The Patent Trial and Appeal Board (PTAB) has made a few headlines this past week. Michael Loney, who is based in New York, took note of some precedential decisions:
The PTAB has de-designated Idle Free and Master Image in response to Aqua Products. Fiscal year 2018′s first half set a motion to amend record for two consecutive quarters

The Patent Trial and Appeal Board (PTAB) has de-designated as precedential MasterImage 3D v RealD, Case IPR2015-00040 (PTAB July 15, 2015) (Paper 42) and has de-designated as informative Idle Free Sys v Bergstrom, Case IPR2012-00027 (June 11, 2013) (Paper 26).
Much of the coverage about PTAB, however, has been hostile. As expected, it came from longtime PTAB bashers and anti-PTAB sites. Those sites have a proven disdain for patent quality. Rather than ignore those sites we'd like to quickly respond to these.
Referring to a case from the first of June, Watchtroll now cherry-picks one of those rare cases where the Federal Circuit either overrules or vacates/remands after PTAB declares some patent/s to be invalid. Deception by omission in the patent trolls' lobby? Well, this was done again yesterday. Watchtroll himself (Quinn) said: "The Office taking a proactive approach to reviewing cases on appeal to the Federal Circuit is good news for applicants facing Alice based 101 rejections. Obviously, now is not the time to allow those cases to go abandoned if they remain commercially relevant."
"Watchtroll's goal has always been to 'scandalise' the PTAB, trying to make it seems like it is making errors (in judgment) all the time when in fact it is getting things right — as measured by affirmations higher up — almost all the time."Writing about patents in an entirely different domain, Watchtroll found an example of a patent's validity being upheld, but readers must bear in mind that all the above are the exceptions rather than the norm. Watchtroll's goal has always been to 'scandalise' the PTAB, trying to make it seems like it is making errors (in judgment) all the time when in fact it is getting things right — as measured by affirmations higher up — almost all the time. It's not just Watchtroll by the way but also sites that have sunk to similarly low levels (a climate of jurist bashing and vicious personal attacks), even Patently-O. Some hours ago Watchtroll celebrated the lobbyist in chief, Makan Delrahim.
Writing about Andrew Hirshfeld, who nearly became a Director of the USPTO (based on rumours at one time), Stephen C. Glazier (Partner at Akerman LLP) relayed this "webinar" nonsense, organised by patent maximalists to better suit their agenda. Glazier uses Patently-O as his platform and speaks of "Increasing Certainty in US Patent Law," which should not be a problem at all. If one cares about certainty, then one should instruct examiners to stop granting abstract patents altogether. Here's what Hirshfeld is said to have said:
On April 26, 2018 the U.S. Patent Commissioner, Andrew Hirshfeld, spoke at our webinar regarding current developments at the U.S. Patent Office. [Link Below]

A major theme of Commissioner Hirshfeld's remarks was the PTO's revived focus on increasing reliability, certainty, and enforceability of issued patents and the application process. The underlying goal here is to further increase the value of patents and their beneficial impact on innovative products and businesses.

The Commissioner stated that a first step toward this policy goal will be pursued by new PTO guidance to Examiners and the applicants regarding the application of the Alice-Mayo test for patent subject matter eligibility under Section 101. Other possible PTO guidance is also being considered on various current issues.
Anticipat, which is trying to make money out of PTAB bashing, has stepped in to also mention "predictability". "The recent memos offer some hope that USPTO will continue to improve the predictability of applying Section 101 rejections," it said. How about just actually applying Section 101 consistently at examination time?
"…to improve the certainty/confidence (or "predictability") of patents simply stop granting patents in defiance of Alice/Section 101."The reason PTAB so often invalidates patents is simple; examiners grant patents that they should not be granting. It's easier for these people to simply attack PTAB itself, not examiners who grant in a rush. Watchtroll himself (Quinn) is back to PTAB bashing ("Structural Bias at the PTAB: No Dissent Desired"). Been a while since the last time? These patent extremists have been reduced to tribunal bashing, judge bashing, and conspiracy theories (especially about Google).
The anti-PTAB (i.e. anti-patent quality) site Anticipat continues to stalk individual USPTO examiners, pretty much with the intention of maligning good ones (strict, thorough examination). To quote:
The USPTO has a vested interest in knowing how well its patent examiners examine applications. It tracks production, efficiency and quality. Even though quality examination has always been tricky to measure, one metric comes pretty close: an examiner's appeal track record. And while tech center directors have had access to this data, until recently this has been difficult to access. Here we explore the known gaps of how this metric is being used at the USPTO.

According to sources at the USPTO, directors–who oversee each technology center–have access to their Examiners' appeal track records. The more an Examiner gets affirmed by the PTAB on appeal, the more reasonable the Examiner's rejections, the theory goes. This means that directors can evaluate examiners based on how often an examiner gets affirmed.
Let's just say it again: to improve the certainty/confidence (or "predictability") of patents simply stop granting patents in defiance of Alice/Section 101. That oughtn't be so hard, right? █
Permalink
Send this to a friend