09.24.18
Gemini version available ♊︎
Battistelli reportedly paid a likely criminal more than he was paying examiners, and Battistelli may have been complicit in the crime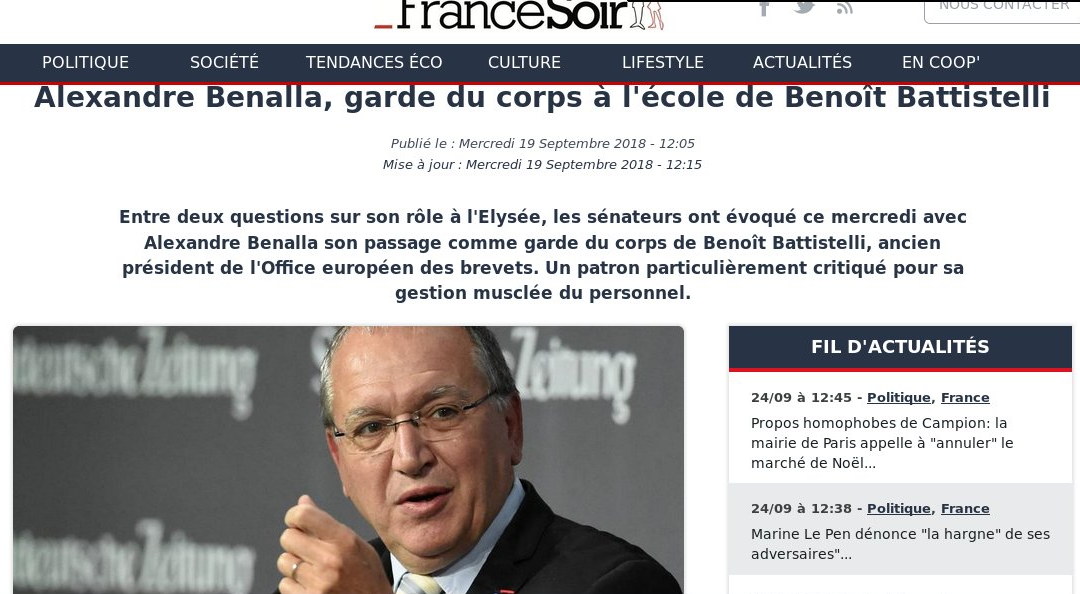 Summary: A Macron scandal has led French media to finally (and years too late) exploring some of the much more explosive scandals at the EPO, revealing some interesting new details in the process
As the Benalla affair and its relationship with the EPO and ex-president Benoît Battistelli hit the headlines in French newspapers and on social media (Twitter) over the past few days, I think this may interests you.
It is about the affair Alexandre Benalla, who was interviewed last week by two senators, Ms. Benbassa and Mr Leconte in the French Senate whether he was in possession of an official, issued by French authorities, weapon permit to carry firearms (both are famous for asking critical questions related to Battistelli/EPO in the FR senat). Benalla allegedly wore a gun during an interview done by a French magazine back in 2016 (apparently there is an existing picture of Benalla posing proudly with a gun). Cornered by the questions, Benalla reveals that he worked as head of security adviser at the EPO and additionally as a bodyguard to former President Battistelli. He admitted to having received an employment contract from the European Patent Office for a monthly salary of about 8k to 10k a month!
Obviously, all these answers raise only more questions, e.g. did Benalla have a permit issued by German authorities to carry weapons while performing his duties in the European Patent Office in Munich?
However, I can remember that such permission from the German authorities in 2016 was strictly rejected. Maybe attentive readers (insiders) can confirm this. Once confirmed, it would mean that not only did he not have any valid papers, which means that it's actually a criminal offense on the part of Benalla; the European Patent Office, speaking og Battistelli and advisers, are fully responsible for this criminal offense.
Here are the links: (obviously all in FR)
Editor's note: If anyone has more information about this, please get in touch with us (anonymously or not). It's an ongoing inquiry and French media pays close attention to these EPO scandals, for a change. █
Permalink
Send this to a friend