11.16.19
Gemini version available ♊︎
And the repositories/hosts that contain pertinent projects and enable censorship of/spying on developers (business intelligence)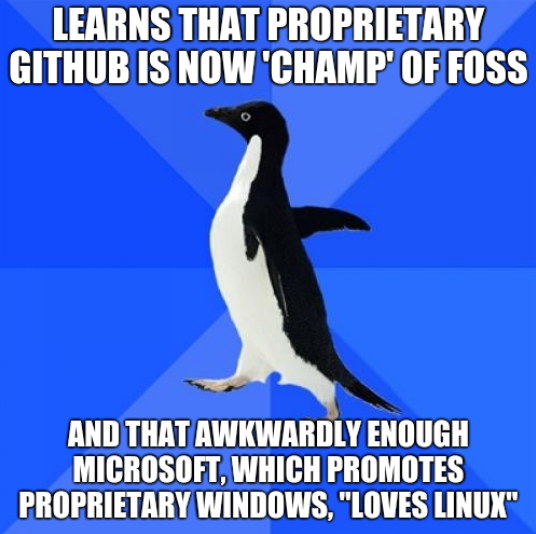 Summary: Microsoft's takeover or abduction of its opposition's voice isn't an act of love but an act of occupation, a hostile colonisation that enables digital pillage and plunder
As we noted the other day, media led by Microsoft boosters and apologists started pushing a narrative: GitHub (i.e. Microsoft) will 'save' FOSS. But keep all of its own source code secret. See the hypocrisy? GitHub is proprietary, Microsoft is all proprietary, but somehow they'll 'champion' preservation of FOSS? GitHub will 'save' FOSS like a meat-eating society will save cows and chicken and that society speaks for vegans like Microsoft speaks for FOSS. We're supposed to think GitHub/Microsoft is our champion. But it keeps all of its own source code secret. That's just classic proprietary software/Microsoft propaganda and sadly we've not seen it challenged except in some comments/forums. The media keeps repeating the lie and even some GNU/Linux shows/podcasts appear know nothing about GitHub having nothing to do with GNU/Linux and even FOSS. Was the Microsoft propaganda campaign that effective? For two days in a row "Linux Headlines" focused on GitHub [1, 2] instead of "Linux". The parent company, Linux Academy, works for/with Microsoft, so perhaps they're not really allowed to criticise Microsoft (they almost never do). Microsoft's GitHub was all along an ambush. Microsoft had planned to buy it since 2014 and groomed it (e.g. in the media) to hijack lots of projects before control is passed over to Bill Gates and his friends. When media approached me for comments on the acquistion it sounded genuinely interested, but it never bothered publishing my views. Why? Did the publisher/editor spike that? Is criticism of Microsoft no longer permitted?
"We're supposed to think that the alternative to Microsoft is just more Microsoft."Microsoft is interjecting itself into the mouths of alternatives to Microsoft to ensure people can never leave the monopoly and its spying. We're supposed to think that the alternative to Microsoft is just more Microsoft. And look at Linux.com. Swapnil Bhartiya has just reminded us, yet again (see intermediary and direct links), that Linux.com is a Microsoft propaganda site shilling for proprietary software like GitHub (much like the Linux Foundation does). So saddening. But predictable. Here's the citation [1, 2]; readers sent us this one and more while others worked on the Delete Github page.
This is becoming a borderline crisis; Microsoft is trying to silence all of its opposition. A week or two after Stallman explained his visit to Microsoft he got 'canceled', just like all staff of Linux.com who actually did journalism, unlike the "corporate writer" (PR and marketing) who became editor.
Does Linux.com's editor know the difference between FOSS companies and Microsoft proxies whose sole purpose is to attack FOSS? Nope, like the Linux Foundation (which takes money from them!) he promotes these again [1, 2].
"Does GNU/Linux still have a high-profile voice that's not in Microsoft's pocket?"As we've said before, Linux.com does more harm to Linux than it does good. Microsoft must like it that way; that makes it more 'in cohesion' with the 'Linux' Foundation, which nowadays helps Microsoft more than it helps Linux. Check out this TechCrunch article Linux.com linked to some hours ago. This article, seemingly about the Linux Foundation, becomes all marketing for Microsoft; Frederic Lardinois is like a PR mole for them, working alongside other people from Microsoft, so this is hardly surprising. Earlier this month we saw Microsoft staff acting as spokespeople for the Linux Foundation.
Does GNU/Linux still have a high-profile voice that's not in Microsoft's pocket? Remember that the vice chair at the Linux Foundation is a former Microsoft manager. █
Permalink
Send this to a friend