01.20.20
Gemini version available ♊︎
Summary: How anyone out there can do the job the media failed to do (after an apparently unprecedented arrest at the home of Bill Gates)
THE requests for information from the police aren't progressing fast enough (or at all!) and our associates have suggested escalating this to reporters dealing with FOIA-type matters. We've been exceedingly patient and polite all along; there's no excuse for over 4 months of delays. What will be the point at which we can focus on the PD's repeated delays and chastise the people who work there for it? They cannot be sued to divulge this information as long as they keep making such polite statements. They don't say "no", they just say "later" (again and again). How long can that go on for? Apparently years.
We've meanwhile been contacted by victims (of such abuse). They are eager to know what happened at the mansion and who worked there. It's not easy to find information about it (the media mentioned it only briefly when people were on holiday). We've been investigating and exploring alternatives access points to verified information.
We'd like to share with readers one available option. Any person can do this. The process is very simple and takes only a couple of minutes (initially). This was alluded to in the seventh part.
To see the court's record (documents) for this case go to the site of the King County Superior Court and click "I accept" ("To Continue Please Accept Terms and Conditions").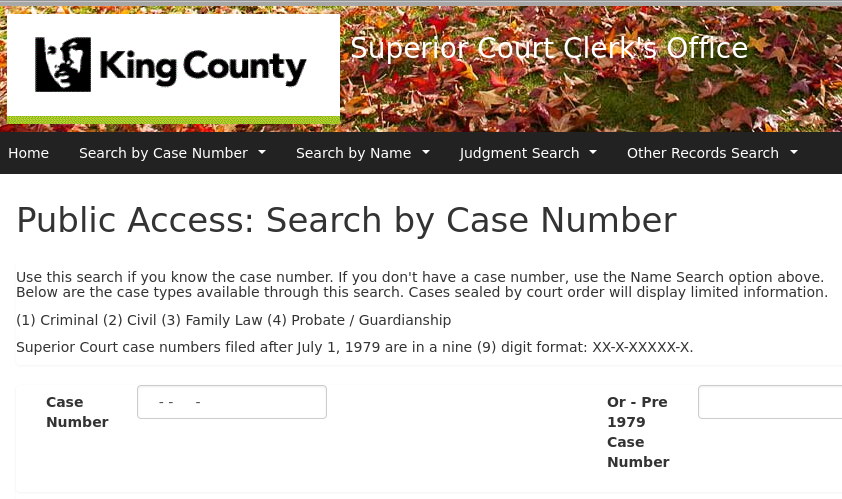 Case overview
In their own words:
The information provided on and obtained from this site does not constitute the official record of King County Superior Court. This information is provided as a service to the general public, intended as a means to provide transparency and more equitable access to public court records.

The information may be subject to errors or omissions, and it may take up to 3 court days from a receipt of filing or court hearing for information to be available online. To obtain an official certified record of the court, please view the Clerk's Access to Case Records webpage to learn how to request records or specific documents in person, online or by mail.

If you decide to continue and enter the KC-Script portal, you acknowledge and agree that neither the King County Superior Court, Clerk's Office nor King County are liable in any way whatsoever for the accuracy or validity of the information provided.
Set up the account. It does not take long. Then enter the case number, which is 14-1-06789-1.
Anyone can buy the documents through this page.

Click on "Don't have an account?"
When an account is set up one can buy credit (per page), e.g. at 25 cents a page.
Your current balance is: 0
Pages being purchased: 100
Total pages will be: 100
Your total cost will be: $25.00
We still wait for police records (2000+ pages, plus more items as there are other related documents).
The court documents might not have the same level of detail. In the case of the police, they likely hold the documents on Microsoft PCs/servers, which can be tampered in theory (by Microsoft and others). The delays don't bode well. As for the courts, this is the kind of stuff that's more public-facing, so tampering might be riskier (people outside the court may notice differences).
We'll do this research one little step at a time. This can take a while. Notice that this case runs — in some form or another — until 2018. We have lots left to show here and speed isn't that critical a thing as long as we're 100% facts-based (so that nobody can nitpick).
This past week's news was filled with puff pieces (sourced by Microsoft) about Microsoft protecting against child (sexual) exploitation and MIT making up excuses for Bill Gates passing money through a sexual exploitation network. We're not too bothered by that as it might simply show a level of nervousness and a need to distract. █
Permalink
Send this to a friend