05.14.20
Gemini version available ♊︎
"It's easier for our software to compete with Linux when there's piracy than when there's not."
–Bill Gates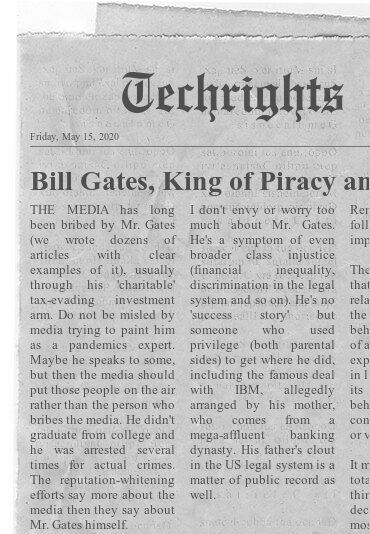 Summary: The corporate media does a huge disservice to the public (harming public safety) by associating the need for novel coronavirus immunity with a class bully who's looking to profit from mass vaccination
THE MEDIA has long been bribed by Mr. Gates (we wrote dozens of articles with clear examples of it), usually through his 'charitable' tax-evading investment arm. Do not be misled by media trying to paint him as a pandemics expert. Maybe he speaks to some, but then the media should put those people on the air rather than the person who bribes the media. He didn't graduate from college and he was arrested several times for actual crimes. The reputation-whitening efforts say more about the media than they say about Mr. Gates himself.
"He could barely get along with his own family."I don't envy or worry too much about Mr. Gates. He's a symptom of even broader class injustice (financial inequality, discrimination in the legal system and so on). He's no 'success story' but someone who used privilege (both parental sides) to get where he did, including the famous deal with IBM, allegedly arranged by his mother, who comes from a mega-affluent banking dynasty. His father's clout in the US legal system is a matter of public record as well.
What we strongly oppose is this idea that Gates is some sort of warrior for justice and truth, belittling his critics as though they're primitive anti-vaccination "conspiracy theorists" (collectively of course, it's just so convenient a framing).
The record of Gates himself reveals him to be a serial criminal — to the point of getting in trouble with the law as an adolescent, in college (law-breaking), and then antitrust at Microsoft. He could barely get along with his own family. There's public record about highly heated disputes, including shouting and domestic violence. Who does Gates get along with? People like J. Epstein, apparently…
"When the media trots out this famous criminal as the flag bearer and public face of COVID-19 response it merely emboldens critics and sceptics, who perhaps rightly perceive Gates as "Big Pharma" profiteer (check where he has put his money!) and this means that public health will suffer. People will be reluctant to cooperate."Says a lot about Gates.
That today's media puts forth this person as some sort of moral compass says a lot about the media. But I worry profoundly about something else. I am a proponent of vaccination and it seems clear we need something to tackle COVID-19 ("herd immunity" won't suffice; it would kill millions). When the media trots out this famous criminal as the flag bearer and public face of COVID-19 response it merely emboldens critics and sceptics, who perhaps rightly perceive Gates as "Big Pharma" profiteer (check where he has put his money!) and this means that public health will suffer. People will be reluctant to cooperate. █
Permalink
Send this to a friend