05.30.20
Gemini version available ♊︎
Exploiting emergencies after being rendered unemployed?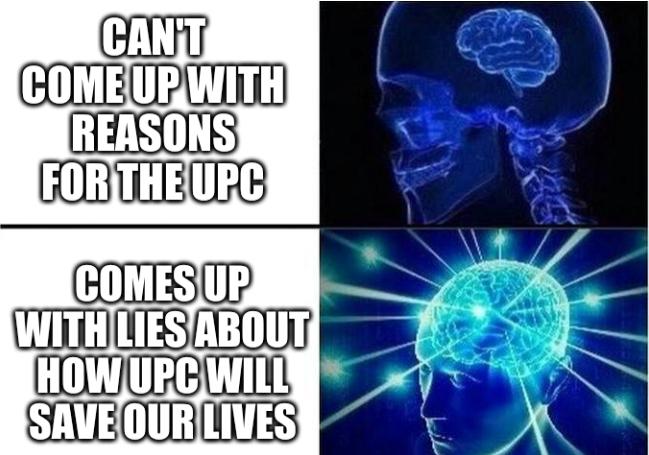 Summary: Weaponised media continues to manufacture utterly ridiculous puff pieces for Team UPC, containing intentional lies from beginning to end
TEAM UPC…
What a bunch of lying losers…
We've grown tried of having to rebut their lies, but it definitely needs to be done. Somebody needs to correct them.
The nature of Big Lies is that if repeated often enough and flung at the wall in sufficiency large quantities, something might stick.
"The nature of Big Lies is that if repeated often enough and flung at the wall in sufficiency large quantities, something might stick."As an example, over the past 4-5 years the European Patent Office (EPO) wrote "tweets" about so-called 'SMEs' several times per week. It's becoming harder for an outside observer to understand just how much harm the EPO causes, especially to SMEs. The EPO keeps repeating its propaganda again and again, not just in mere "tweets" but also videos and Web pages, sometimes so-called 'reports' and 'papers'…
See, today's EPO is run by liars and politicians (which is what António Campinos and Benoît Battistelli really are). To them, science hasn't any real value; it's all about public perception. Never mind facts when political pandering is so much more effective.
"We predict that 2020 will be full/saturated with more farcical 'articles' like these; they'll try to spin COVID-19 in every possible way, somehow portraying a major barrier as an upside or "opportunity" (it's not; the very opposite is true)."EPO set aside, consider Alexander Ramsey, who spearheads (Team) UPC even though he's hardly an objective actor (see career history and affiliations). Typical caricature of a failed coup based on faked premises…
Something called "ResearchEurope" in Twitter wrote the other day that "[a]fter multiple setbacks, Europe's unitary patent could help with the recovery from the pandemic (€)…"
What an utter lie (it's patently false!) from chronic liars. This UPC plot is and has long been an SME killer, even by design. Why print deliberate lies? Ben Upton published a 100% puff piece for Alexander Ramsey, disguised as something professional, stating:
After multiple setbacks, Europe's unitary patent could get a surprising kickstart from Covid-19

To protect an invention across Europe, patent holders must pay fees for every member state in which they want coverage. If someone disputes their ownership, they may have to fight cases in multiple courts far from their home, with the costs potentially enormous.
No, this is what global conglomerates like pharmaceutical giants do, and usually they're not even European. The European companies are their victims, the defendants.
"Europe's unitary patent could get a surprising kickstart from Covid-19″ is an absolutely ridiculous, contemptible lie. It's no secret that the very opposite is true! First of all, politicians aren't around and many people aren't going to work. So Team UPC is unable to do anything! Moreover, courts barely function.
It has been widely asserted around the Web that this pandemic will — if anything — further harm the UPC lobby.
But who cares about facts anyway…
Secondly, "Europe's unitary patent" is technically and legally dead, not clinically perhaps…
It exists merely as a zombie or a ghost. You could argue that Elvis too is still around… albeit 6 feet under.
The above nonsense was spotted by Henrion, who joked: "After the corona crisis, the patent crisis, or how to boost the economy with more patent trolls and lawsuits…"
"Probably a a new astroturting site hiding the lies behind paywalls," I joked with him. I never before saw this "ResearchEurope" site. So much for 'research'…
Couldn't even do the most fundamental fact-checking; it wouldn't have been too hard…
But anyway, another day, another lie. Another site puts its credibility to rest. We've become used to it.
Just about a month ago was noticed IP Law Galli's Cesare Galli promoting his article that piggybacked COVID-19 in Italy and said (under the headline "Patent infringement to deal with COVID-19 emergency: possible exemptions"): "In addition, this exemption excludes any professional conduct of contributory infringement, such as the supply by a professional – even to private individuals – of the essential means to allow infringements and, in particular, the supply of files or projects made by third parties with the precise purpose of allowing the reproduction of a patented product. The rule is now contained in Article 26 of the Agreement on a Unified Patent Court; the Italian legislature has also implemented it, introducing a corresponding rule in Article 66 of the IIPC."
Well, this "Agreement on a Unified Patent Court" is basically dead and was already dead for well over a month (if not years) prior to this article. So who are those people kidding? Do they think that bringing it up and naming it every now and then will somehow summon its spirit, waking it up like some ghostly entity?
We predict that 2020 will be full/saturated with more farcical 'articles' like these; they'll try to spin COVID-19 in every possible way, somehow portraying a major barrier as an upside or "opportunity" (it's not; the very opposite is true). █
Permalink
Send this to a friend