07.14.20
Gemini version available ♊︎
He does not speak for the "Open Source Community" and does not even use Open Source himself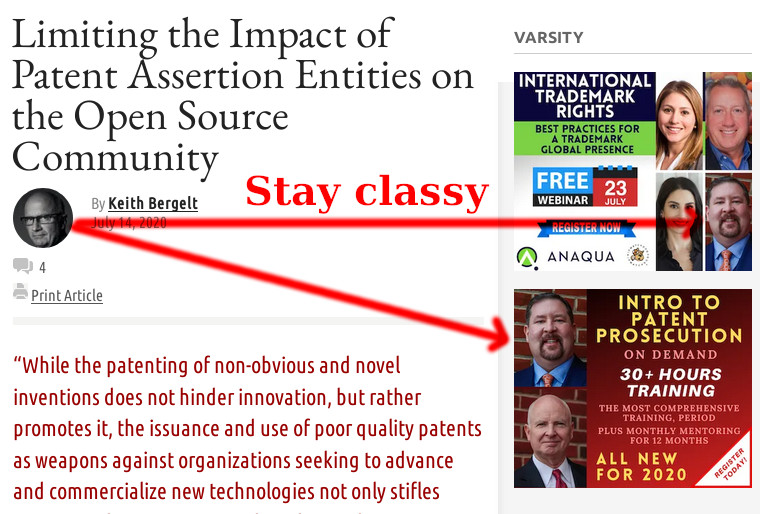 Summary: The Open Invention Network (OIN) seems to be choosing rather odd platforms; the above publisher, a judge-bashing software patents extremist, cannot possibly improve OIN's image (by association)
Back when the Open Invention Network (OIN) was new — and back then it was run by a former IBMer — we thought it was an interesting and likely well-meaning organisation. We generally supported it. Years later OIN was put in the hands of a former US diplomat whose career record (in the patent domain) should trouble anyone who opposes patent shakedowns. He's basically a "patent monetiser"…
In recent years things deteriorated even further. Sometimes OIN feels too much like a front group of software patents' proponents. Some OIN staff calls major patent trolls 'charities'… and tells us "Microsoft loves Linux" (a deliberate lie, but Microsoft is a member of theirs now).
So Keith Bergelt, on behalf of OIN (see screenshot above), is writing for Watchtroll. We omit the link, as usual. Matt Levy from CCIA did the same thing not too long before he lost his job (he's at LOT now). Why would they wish to associate with the one and only site we refuse to even link to? Yes, it's the only such site. All remnants of respect for OIN are gone when they do this. Well, in a sense it can be rationalised when one considers the actual agenda. And remember that the people who run OIN are themselves patent trolls and OIN serves an overlapping agenda. Today's OIN is run by former patent trolls that are connected to Microsoft and oppose 35 U.S.C. § 101 (i.e. lobby for software patents at the USPTO).
"He says "poor quality patents", but he never ever speaks about software patents; because he's not against them."Bergelt has called trolls "PAEs" (even gentler a term than "NPEs"). Here's a couple among very many times when he said "PAEs": "PAEs generally rely on poor quality patents as these patent assets are generally less expensive to acquire than more fundamentally sound and defensible high-quality patents. In this way, PAEs are able to generate sufficient return to make their business model efficacious."
He says "poor quality patents", but he never ever speaks about software patents; because he's not against them. "While the patenting of non-obvious and novel inventions does not hinder innovation, but rather promotes it," he says, "the issuance and use of poor quality patents as weapons against organizations seeking to advance and commercialize new technologies not only stifles innovation but creates a tax that ultimately is shouldered by the consumer. Given the unique innovation benefits of collaborative development on which all who adopt and use open source software rely, it is imperative that individuals, foundations and organizations across the technology spectrum commit to patent non-aggression through broad based cross licensing of core open source functionality. In addition, companies in the open source community must work together to lessen the effects of PAE activities through the crowdsourcing of relevant art that can prevent poor quality patent applications from being granted and poor quality granted patents from derailing the innovation agenda that open source uniquely fosters."
"What we have here isn't pursuit of a solution to the problem."So what about companies whose software is not "Open Source" (that's true for all of OIN's big or biggest members); is it OK to just sue them out of existence?
What we have here isn't pursuit of a solution to the problem. OIN's solution is for everyone to put software patents in one big heap and sing Kumbaya, is that's not a racist thing to say, rather than actually pursue elimination of those patents. █
Permalink
Send this to a friend