12.12.20
Gemini version available ♊︎
3 months ago: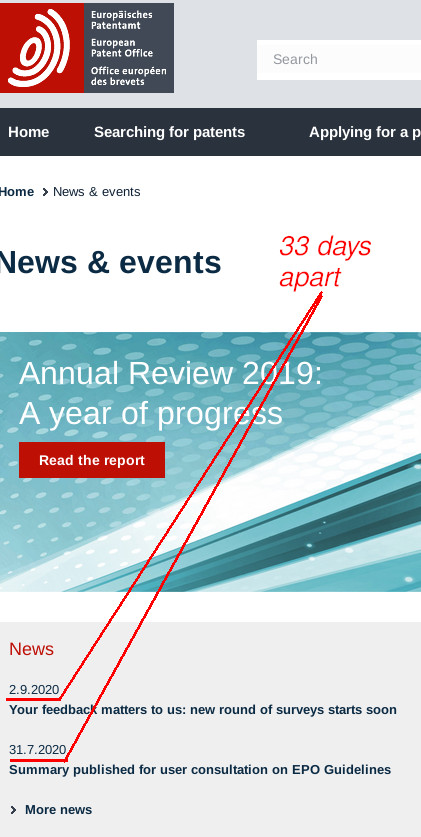 The past 3 days (or less):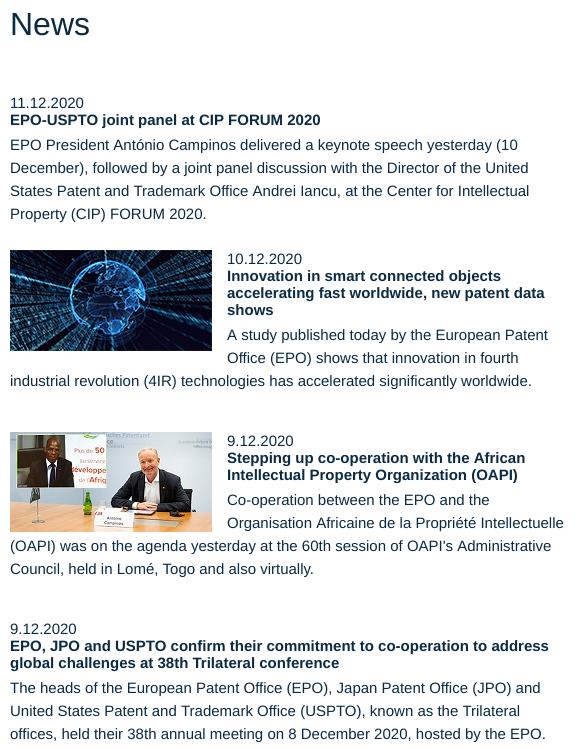 Summary: The EPO's management is busy writing loads of superficial puff pieces while the rest of the staff actually does all the work (and prepares to go on strike this coming Tuesday)
THE facts are very clear. The facts are on the side of EPO staff. The facts are damning. The facts can literally get Benoît Battistelli detained, prosecuted, and arrested, along with any enablers and collaborators/facilitators/accomplices. His boss was recently arrested. His bodyguard was also arrested. No wonder he keeps a 'low profile' (and has been for two years now, in effect hiding in a French law school).
"Campinos and his cohorts already squirm."There's an old saying along the lines of being unable to change the past (except cheap revisionism and cover-up). Truth can sort of 'catch up' with people, as some people allege in relation to Donald Trump (there are rumours he's already applying for asylum somewhere while delaying the inevitable outcome of last month's election).
The EPO has basically just done a 'news' item about António Campinos talking to a computer (a so-called 'speech') with Andrei Iancu displayed on the screen as if it's a significant event. They try to make a 'cult of personalities' based on a crook riding his dead dad's coattails. According to this (warning: epo.org link), a few days ago Campinos was chatting with a Trump booster, Andrei Iancu, who actively promoted Trump ahead of the election (he had worked for Trump before netting this job, so it's a bit like EPO nepotism). To quote (lots of inaccuracies there): "EPO President António Campinos delivered [sic] a keynote speech [sic] yesterday (10 December), followed by a joint panel [sic] discussion [sic] with the Director of the United States Patent and Trademark Office Andrei Iancu, at the Center for Intellectual [sic] Property [sic] (CIP) FORUM 2020."
How is this actually newsworthy? What's the importance of this? How does that compare to the other 3 pieces published in less than 2 days prior to that? As of last night, Watchtroll repeated EPO propaganda about illegal software patents ("4IR") seeing "exponential growth"… in effect fake patents that should not have been granted. We already know that Watchtroll works closely with Team Battistelli. It should be noted that nobody but us and Kluwer Patent Blog even mentioned next week's strike, which is now public information (it's even in the front page of SUEPO's Web site).
Europe's second-largest institution going on strike is not news? Whereas 4 pieces of fluff about Campinos are somehow EPO "front page" (homepage) material? Who are those people kidding? The above is the 4th spammy EPO 'news' in less than 3 days (earlier this year they went on for over a month without even one! See screenshots at the top!) because the EPO's dictators try to distract from their crimes, which eventually caused the staff to go on strike (next week).
Well, also mind the dates; this whole torrent of garbage started the day Campinos received the letter from SUEPO, informing him about the imminent strike. We've already seen how the 'gish gallop' of fluff overlaps truly damaging things which happen at the Office (and Office management tries hard to distract from).
Clearly someone (or someones) feels a little nervous. Later in the weekend we may produce here more evidence of that. So in effect the strike is having a real effect even prior to actually taking place. That's collective bargaining or leverage. Campinos and his cohorts already squirm. █
Permalink
Send this to a friend