01.08.21
Gemini version available ♊︎
Summary: A quick (unscripted) rebuttal to this awful article from Reuters, whose journalists were killed by the US government, which then lied about it (until Wikileaks exposed the truth)
SOME RECENT articles of ours spoke about the Assange verdict before and after the decision. The "Trial by Media" aspects, however, have rarely been addressed here. That's mostly because we try to focus on technology and patents, not politics and journalism which is politically-connected. We don't avoid politics because it's not important but because many sites out there already cover many facets of politics all around the world (we link to these in Daily Links) and we've never specialised in politics and laws, which vary across countries and cultures.
"Edward Snowden once explained that as the state (and corporations that feed the state) collects a lot of data on people it can construct false narratives and rewrite sequences of events in a way that embarrasses just about everything/everyone, giving it tremendous coercive power (public shame, private blackmail and so on)."The above video was done without preparation because nevertheless it's a subject that's easier for me to address, having watched Wikileaks since its early days (Wikileaks is almost the same age as Techrights, give or take a month/couple of months).
Weaponisation of the media is very interesting. A pattern we've long witnessed (one among many) is that the media will personify a subject or site, then attack/shoot the messenger. Infiltration tactics and provocateurs are another pattern, but they're separate from the character assassination tactics, which typically target leaders or perceived/potential leaders (charismatic outliers). It is done a lot by union-busting professionals and we've seen that at the EPO countless times.
Under the guise of "facts", corporate media (owned by plutocrats) is distorting the record of Wikileaks and paints Assange as some sort of perverse serial offender. This sort of narrative has been perpetuated for 10 years now, having been partly supported by misleading coverage that makes it seem like Assange is wanted for crimes against women as opposed to exposing war crimes, putting an empire at risk/peril (harder to run the world when someone airs some 'dirty laundry').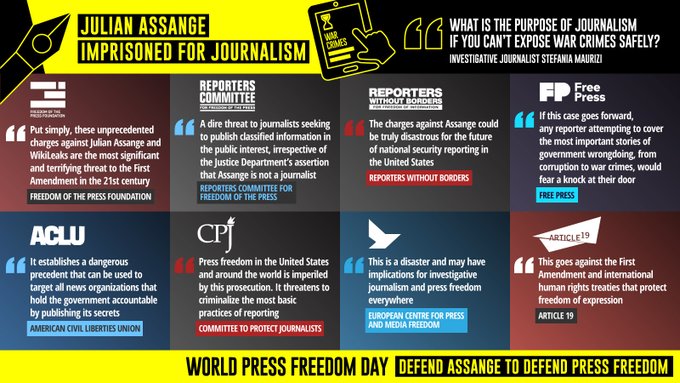 Wikileaks has published many leaks, ranging from business crimes to political crimes and war crimes. These publications came from many countries and have often led to accountability for the real criminals, not those who merely 'embarrassed' them by exposing their crimes.
The video may seem cluttered, my voice isn't benefiting from sub-zero temperatures (we never use the heating here), but it is attempting to explain — from start to finish — what's wrong with one of many articles (or so-called 'timelines') about Julian Assange. It's not so much about what they say but what they do not say and the way they frame/present things. Edward Snowden once explained that as the state (and corporations that feed the state) collects a lot of data on people it can construct false narratives and rewrite sequences of events in a way that embarrasses just about everything/everyone, giving it tremendous coercive power (public shame, private blackmail and so on). █
Permalink
Send this to a friend