05.25.21
Gemini version available ♊︎
Summary: The EPO's communications strategy for handling G 1/21 (kangaroo court to approve EPC and GDPR violations) will be interesting; the management is already extending this illegal practice until next year, without bothering to see the legal ramifications or assessment to be composed by Wim Van der Eijk, a former Vice-President at the EPO itself (another conflict of interest)
This morning we saw in "Mondaq News [sic] Alerts" that prominent proponents of patents on life and nature (they profit from litigation in that area, hence they're patent maximalists out of convenience or financial self-interest) taking note of EPO 'news' (warning: epo.org link) — an issue that was mentioned the other day because it indicates that EPO management already knows the outcome of G 1/21. Incidentally, there's a Wikipedia entry about G 1/21 (last updated yesterday) that says: "G 1/21 is a referral under Article 112(1)(a) EPC pending before the Enlarged Board of Appeal of the European Patent Office (EPO) relating to the legality of holding oral proceedings at the EPO by videoconference without the consent of the parties."
Also, worth mentioning is the fact all the edits are from this user ("Edcolins") who edits extensively articles about European patent cases, including articles about European software patents and software patents in general. Among the articles edited: Alison Brimelow, António Campinos, Christoph Ernst, Roland Grossenbacher, Francis Gurry, Kurt Haertel, Carl Josefsson (judge), Jesper Kongstad, Peter Messerli, Alain Pompidou, Dieter Stauder, Joseph Straus, Wim Van der Eijk, and Georges Vianès…"
The complete history of the G 1/21 entry: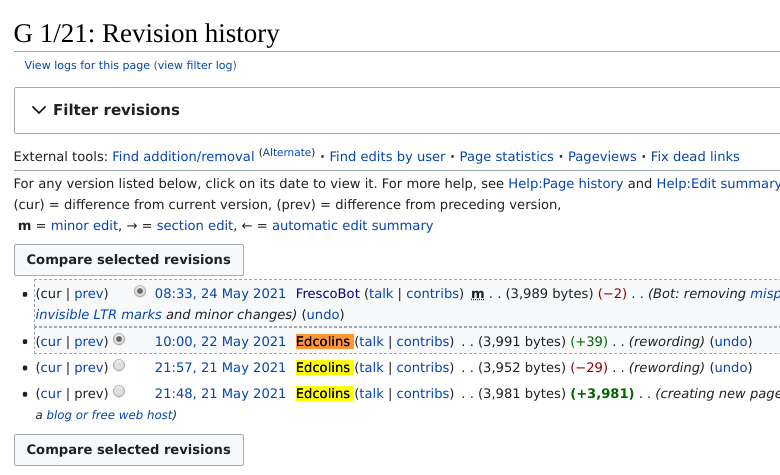 The same for António Campinos: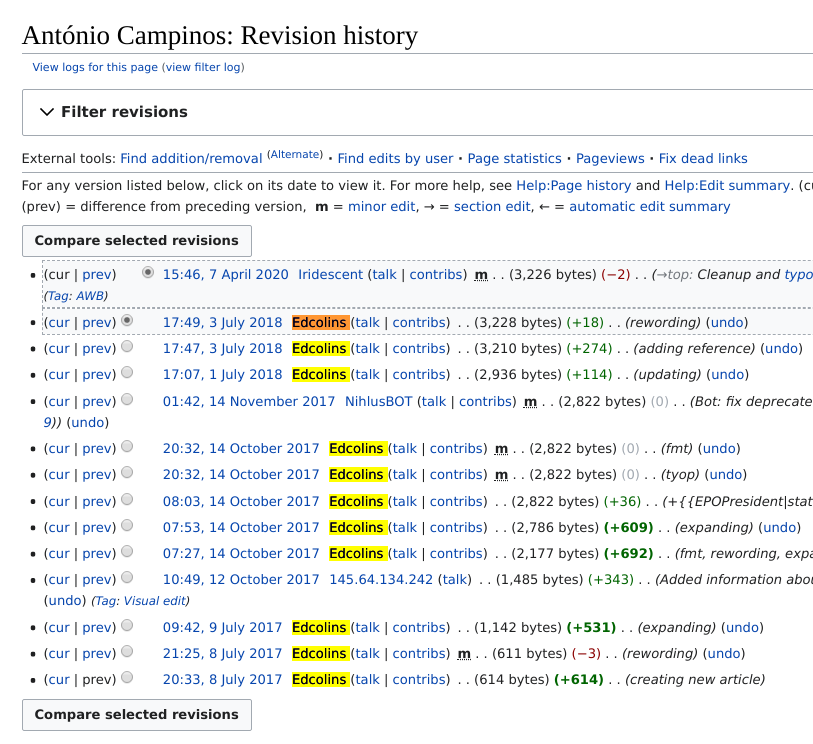 Among many more, written almost exclusively by this one person with barely any mention of criticisms, just official narratives with all the sources being EPO-friendly (of funded, connected).
The EPO's management is extending an illegal practice as if they already know the outcome of the case instead of waiting until it is finished. The opinions expressed here show that they're fooling almost nobody.
The video above also mentions this new article from Christine G. Espino Fangli Chen and (Proskauer Rose LLP), copied by National Law Review, and mentioned last night in Daily Links. Proskauer Rose LLP has a stake in the outcome, so this isn't journalism; we have been critical of them spreading falsehoods over the years and media being so one-sided that it's shamelessly treating litigation profiteers as objective assessors of the situation. Those are the same publications/publishers that always went 'soft' on Benoît Battistelli. He served their agenda. █
Permalink
Send this to a friend