03.01.22
Gemini version available ♊︎
Video download link | md5sum 8dc1cae69081930f93fe0ab37652b66c
Spoils of War
Creative Commons Attribution-No Derivative Works 4.0
Summary: The social control media giants, including Twitter and Facebook, make the world a more dangerous place; had more people realised it and accepted this as fact, we'd manage to curb this threat, collectively
LESS than a week ago Russia invaded Ukraine and social control media egged on, spread misinformation etc. while politicians used Twitter for official and potentially reckless communications, not carefully considered by experts, equipped with accurate information and diplomatic skills. Yes, it's "realDonaldTrump" all over again.
This is not the sign of a healthy platform. It generally favours what drives "engagement", so it is profiting from drama and escalation.
I don't want to participate in such a thing. In the video above I show what Twitter, which really lost a lot of its momentum in recent years (traffic or impressions are nowhere near to what they used to be), is generally like. I'm not new to this platform and I've long expressed concerns about its policies, including but not limited to censorship methods.
"One might say that one's co-called 'usage' can be adapted to reduce/mitigate/contain the harms, but my experience suggests otherwise."I recently came to realise that participation in Twitter isn't just harmful to one's mental state or ability to concentrate, as explained here two years ago. It's harmful to the world in general and that's just how it is. Clearly it was never intended by anyone and this is not the platform I created an account in back in 2009 (to merely absorb copies of what I had posted to identi.ca already).
One might say that one's co-called 'usage' can be adapted to reduce/mitigate/contain the harms, but my experience suggests otherwise. To be in that platform one must play by its "rules", which inevitably lead to a whole bunch of bad things as that's just what Twitter is and how it works. █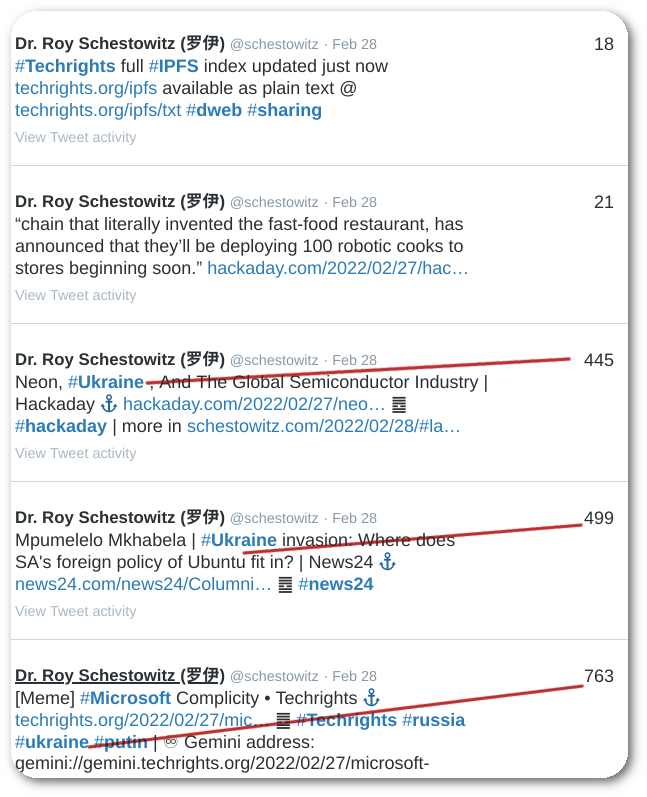 Permalink
Send this to a friend