11.27.22
Gemini version available ♊︎
Summary: As we quickly approach the last month of the year, here's a look back at a wonderful year for Techrights (but not for the world in general) and a look at the year ahead
WE recently published the 35,000th blog post and celebrated 16 years.
This long weekend (owing to Thanksgiving) has given plenty of time for reflection and planning. It's not a secret that there are many changes afoot, but overall those are positive changes and they will make this site better. Not just a Web site, but so much more…
In-Depth Investigations
Site migrations are already underway, but it takes time as we still focus on publication of material too (we don't want to halt that). The GitHub/Microsoft series will go on next year; there's plenty of material we're eager to publish. There are several other "big stories" (or series) in the making, but they take time to properly prepare and fact-check. Stay tuned.
Tor, GNUnet, and More
If all goes according to plan, Tor/Onion will be supported next year. IPFS and Gemini have good resilience already and are robust to downtime (with spare nodes and hardware). GNUnet is still being considered. It's a promising project. It seems like Mumble too is gaining adoption (it's mentioned a lot online this year) and at the time of writing there are "514 known IRC networks" of significant size with a third of a million people online (counted across those networks).
Personal Life
As a researcher by training (and profession too; I was a postdoc for a few years) I like to examine the facts for myself and properly assess the evidence rather than blindly rely on what corporate press keeps saying. The media gets a lot of things wrong, but it tends to get away with it.
The way things are looking right now, this post-Brexit economy in a state of pandemic (that many are already in denial of) won't recover any time soon. Maybe there will be an upswing — however small — rather than ongoing downturn some time in the next 5 years. Maybe. In the meantime, for a lot of people there's a daily fight over necessities; it's about survival. The national health service (NHS) is under perpetual attacks (aside from privatisation), the press is rapidly collapsing (not many people are still willing to pay for news; some cannot afford such a "luxury"), so we're left with tabloids and oligarchs-owned "news" (sometimes the same as those tabloids).
Then there's the health crisis, aside from mental health crisis.
How Deaths Have Soared This Year (Compared to Pre-COVID-19 Levels)
A topic I typically write about in my personal site is worth echoing here, at least in passing. There's a mortality and morbidity crisis, which many are aware of while the media is suppressing or stonewalling or vainly gaslighting.
The relevant data is available from official (government) sources:
Recent weeks' total deaths in England and Wales: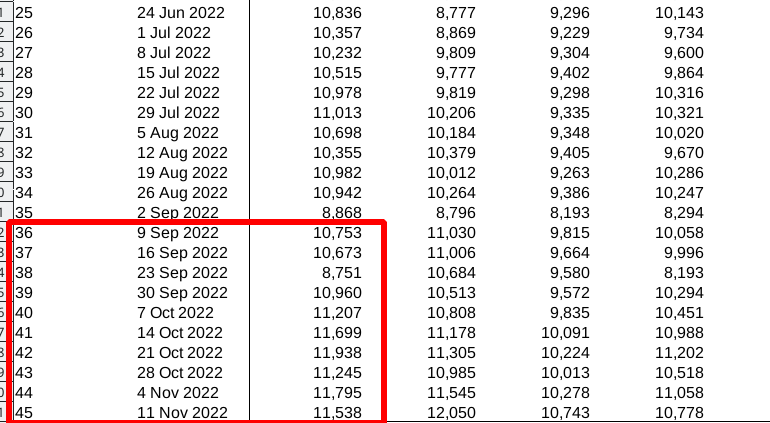 These numbers are very high, especially so in recent months.
This affects ALL age groups and has come to the point where some weeks have have more than 2,000 additional deaths compared to the 2015-2019 average (in week 20 it was more than 2,500 higher).
Here's 2022 (the unit in the X grid is week number):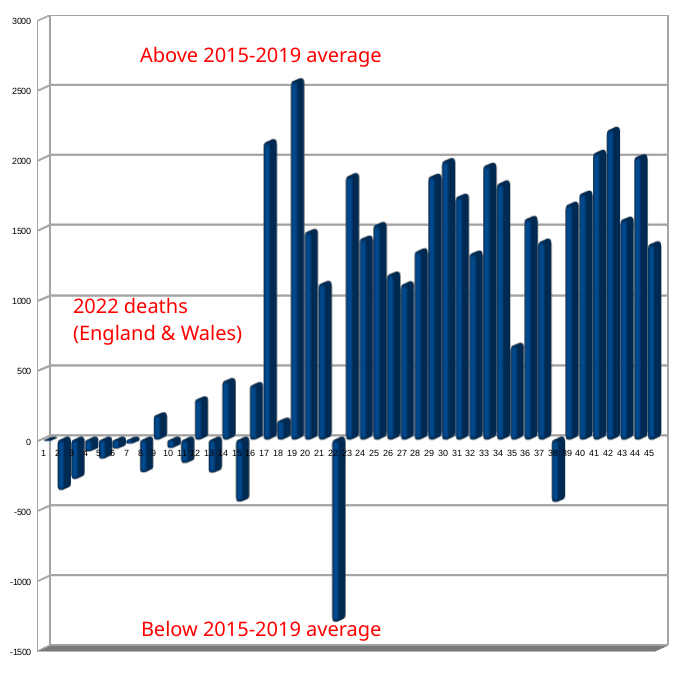 The high numbers (or very tall vertical bars) are number of deaths higher than pre-COVID-19 average number of deaths (for any given week).
Data: All deaths by week 45 versus pre-COVID-19 average (ODF)
That's just based on the data. No need to argue with the data, unlike interpretations of it. Stay cautious regardless.
With more time spent indoors, and with more time available in general, Techrights will grow and thrive. █
Permalink
Send this to a friend