OpenDocument Event to Take Place in the Back Yard of the Shenanigans
Dr. Roy Schestowitz

2008-02-18 08:55:03 UTC
Modified: 2008-02-18 09:19:49 UTC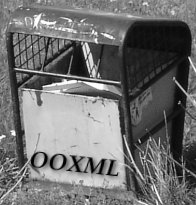 "We want to own these standards, so we should not participate in standards groups. Rather, we should call 'to me' to the industry and set a standard that works now and is for everyone's benefit. We are large enough that this can work."


--Microsoft Corporation, internal memo (source [compressed PDF])
T
hroughout the week of the BRM in Geneva we will be
covering Microsoft's many past corruptions
. We will take a look back at some of the most disgusting abuses which may be
a question of Microsoft's survival
; abuses so extreme that even the European Commission bothered to launch
a third antitrust investigation to study them
.
Other advocates of truly open standards will not sit idle, either. They will also be in Geneva and while the secretive proceedings of Microsoft and its protégé ECMA
will arrogantly have them snubbed
, they will openly welcome
participation in the OpenForum Europe Conference
.
The Conference is organised by OpenForum Europe with the support of the following organisations: Ars Aperta, Certified Open, Danish Open Source Business Association, Dutch OpenDocument Society, Free Software Foundation Europe, GesmerUpdegrove LLP, Google, IBM, ODF Alliance, OpenIreland, Opera Software, Red Hat, The Open Learning Centre...
On the other side of the street, deep inside a cellar -- so to speak -- ECMA and Microsoft will do their selfish deeds [
1
,
2
,
3
,
4
,
5
], fooling the whole world for an extra sheckel and a new set of shackles.
Highlights include:
So, which bar in Geneva serves Kool-Aid?
⬆