OOXML: Stacking, Exclusion and Snubbing in the US, Australia and New Zealand
Dr. Roy Schestowitz

2008-03-11 04:44:02 UTC
Modified: 2008-03-11 04:44:02 UTC
More evidence of rule-bending and misconduct
W
rite these down as another set of dirty tricks from Microsoft.
United States
It has been no more than a couple of days since we
last mentioned
the United States and OOXML
. This has been outrageous
from the very start
, going back a long,
long way
. It is hardly surprising to finally find that Microsoft is
'stealing the elections' yet again
.
In the latest demonstration of how broken the process is the US V1 technical committee voted on Friday to recommend approval of OOXML in a 17-4 vote, where Microsoft and no fewer than 11 of its business partners voted in favor of the specification. Am I the only one to see a major conflict of interest at play in this?
Australia
We last mentioned Australia and New Zealand just
several days ago
and finally we're starting to find new complaints. Here is
one from Australia
:
AUSTRALIA'S stance in the global stoush over Microsoft's bid to make its XML document file format an international standard will be thrashed out by local experts today.

[...]

Open Source Industry Australia spokesman Brendan Scott said he only received Standards Australia's report late last Friday for discussion by the technical working group today.

"It's very difficult to work out what's involved in the final draft," Mr Scott said. "There isn't a complete document containing all the changes.

"It's a big ask to have sensible comment on such a big document in such a short time."
It's
deja vu all over again
. Limit time, limit opportunity to scrutinise.
New Zealand
New Zealand's story isn't any better. A month ago we heard about
ECMA virtually ignoring Italy's gripes with OOXML
and here comes
a case where ECMA (Microsoft) disregards over 98% of the comments
.
As you can see from the attached document, in the lead up to the BRM Ecma offered improvements to only 13 of the 54 SNZ comments. Out of these 13 "improvements" we found only one that really did address the fundamental issue. That's right, Ecma "fixed" 1 comment out of 54.
Who are they kidding? OOXML is broken, it cannot be mended as quickly as Microsoft wishes (or needs), so the company withholds information from critics and stacks technical committees (or Working Groups). Is this the way to earn an international standard?
⬆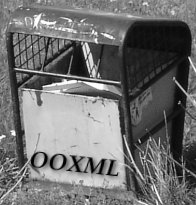 Rubbish specs belong in the trash can