Those with stake in patents witness and
dread the backlash (some would say "revolt")
A
s promised yesterday, here is a quick status report. In the southern hemisphere, not all is fine and dandy. In fact, the news from New Zealand is that software patents
meet opposition from the Green party
.
The Government of New Zealand is proposing a set of amendments to the national patent law, none of them clearly mentions the exclusions of software from the field of patentability. The Government claims that Free Trade Agreements and other international treaties require software patents in New Zealand.

[....]

The Green party has already taken a position against software patents in New Zealand, but what is more important is to convince the right wing conservatives that software patents harms the local economy.
It's not much better in Australia where the patent system
as a whole
is now
being taken to task
.
THE federal Government is considering overhauling patent laws, after a major report this week found the ease with which patents were granted in Australia was hampering innovation.
There are
some more remarks about this report
, which is a black eye to the Australia patent office.
Specifically, the report showed that the ease of getting a patent in Australia was leading to way too many bad patents being granted, which were then being used to stifle innovation and investment.
Over in Europe, the system
as a whole
is being questioned as EPO staff goes on strike and continues to receive a lot of coverage. Richard Stallman says
it's due to corruption
(greed and lust for money).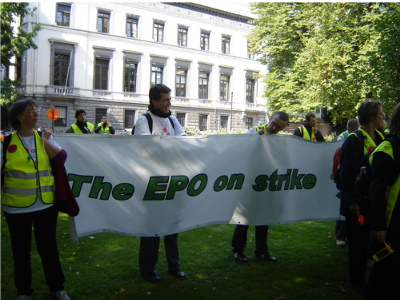 It's getting rather embarrassing and ugly because the waves this has sent across the media and A-list blogs
rekindle an almost-forgotten discussion
, which means that people take nothing for granted and start getting curious, thus getting better informed.
European Patent Agents Go On Strike To Complain About Pressure To Approve Bad Patents



One of the causes of so many bad patents getting approved lately is screwed up incentives in the patent system. For a while, the US had a de facto system where agents were pushed to approve a patent when in doubt. That's because they were judged on how many patents they went through -- and if they rejected a patent, the applicant could complain and ask for a review -- meaning that the examiner would have to spend more time reviewing that same patent again, decreasing the number of patents they had gotten through, potentially harming their "stats." Thus, it's often easier to just "approve." And, of course, the Patent Office itself is usually fine with this, because that means more patent applications and more fees.
IAM, whose interest is in patents (and plenty of them!), is
getting concerned
.
SUEPO needs to be completely transparent about its motivation, otherwise there will be a suspicion that patent quality is just being used as a tool to attract headlines. That, of course, is a very dangerous game. It can help to reinforce the claims that the patent system is not working. If you don't believe me, just look at the enthusiastic coverage the strikes are receiving on anti-software patent websites.

So, to sum up: SUEPO and Ms Jacobs might be right. But we will not know until they stop sloganeering and start to provide some proof. Until they do, I am going to continue to be critical of their actions.
They merely fear the end of an era which lies ahead. A lot of patent attorneys and patent holders are likely to be disappointed to see sanity restored. The bursting of any bubble is inevitable.
This is not innovation;
it's monopolisation
.
[T]hey identify software and business methods as an issue, and state that large companies are using the patent system to build thickets that effectively keep competitors out of markets.
As more people scream for change and stand up for their right to run a business, the patent systems will find themselves under more fire. Loopholes in the law don't last forever.
⬆
"Software patents are a huge potential threat to the ability of people to work together on open source. Making it easier for companies and communities that have patents to make those patents available in a common pool for people to use is one way to try to help developers deal with the threat."
--Linus Torvalds