Like the scorpion and the tortoise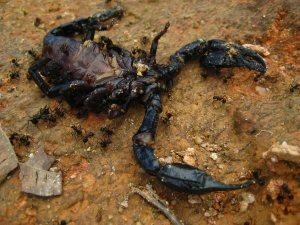 Summary: Additional proof that the "Open Source" policy at Microsoft is still something along the lines of "We are not allowed to be seen as attacking Free software but quietly we have to"
THE RECENT REMARK from Hernán Rincón (insulting "Open Source" [1, 2, 3], which gets adopted widely where he works for Microsoft around Brazil) have helped a lot of people see that Microsoft it no friend of "Open Source", but this does not prevent Microsoft from carrying on with this PR charade. Microsoft's booster Marius Oiaga is helping them right now:
Microsoft, once the anti-open source poster child, says that the company has evolved as the world changed and that it is now committed to openness.
Watch them use their beloved Novell to spread this lie:
Microsoft made a critical move in 2006, when it inked a Windows and Linux interoperability alliance with open source vendor Novell.

Since then, both Microsoft and Novell have made investments into making sure that Windows Server and SUSE Linux can play nice together for customers that need to run both platforms in their heterogeneous environments.
Let's face it, Microsoft's biggest cash cow is suffering (that's Office) and while Microsoft keeps pretending to harbour "open source" on Windows it is actually attacking OpenOffice.org for Windows, even though it's "open source" and for Windows. What does that say about Microsoft's attitude towards "open source" on any platform at all?
Microsoft's hiring of people
specifically
to fight OpenOffice.org (and LibreOffice or Lotus, by extension) is something that we covered before [
1
,
2
]. It has turned rather pathetic. Microsoft is now blatantly lying in new videos. "Source of one of the quotes in #MSFTvOOo video," says Jan from Red Hat, is a case "from 2006(!) about Windows 2003(!)" (he also gave a pointer to Microsoft.com). Someone who prefers to remain anonymous has chosen to study Microsoft's 'beef' in this latest FUD campaign and here is what he or she found, based on
this video
:
The people quoted in the spot against OpenOffice:

James Fleming, Infrastructure and Support Manager, Speedy Hire Jeff Cimmerer, Director of Technology for the Pittsford School District David Sterling, ICT Manager, Central Scotland Police Bülent Türker, Product Manager, Scarves Department, SARAR Group Eugene Mariotto, ICT Director, Cobra Automotive Technologies Eros Borgogelli, Information Systems Coordinator, Ciar Randall C Kennedy, InfoWorld Tisome Nugent, Educator, Orange County Public Schools Sergey Sakharov, Business Process Optimization Manager, Art of Transport Logistics Darek Muraszko, Information Systems Admninistrator, Kaczmarski Inkasso Igor Gentosh, Head of System Integration Department, Kredobank JSC Tiziano Battilana, Information Systems Coordinator, Euromobil Group Joerg Lenze, System Administrator, Heinrich Berndes Haushaltstechnik GmbH & Co. KG Leonid Medvediev, Head of IT Department, CJSC SPC, BorschagivskiyChemical and Pharmaceutical Plant Bailey Mitchell, Chief Information Officer, Forsyth County Schools

I am in the process of checking the quotes and I have noticed they are effectively taken from quite old "success" stories, here some examples:

David Sterling, ICT Manager, Central Scotland Police Source of the quotes:

http://www.microsoft.com/casestudies/Microsoft-Office-2003/Central-Scotland-Police/Central-Scotland-Police-Cuts-Maintenance-Costs-30-Percent-By-Replacing-Linux-Desktop/49609

This is a "success" story of 2006 about a migration to Office 2003/Windows 2003. Linux desktops in 2003 and OpenOffice in 2003 are ancient IMHO, not really a good way to convince customers NOW :-)

You can find more, for example:

Tisome Nugent, Educator, Orange County Public Schools

http://www.microsoft.com/casestudies/Case_Study_Detail.aspx?casestudyid=4000005095

Joerg Lenze, System Administrator, Heinrich Berndes Haushaltstechnik GmbH & Co. KG

http://65.55.21.250/caseStudies/Case_Study_Detail.aspx?casestudyid=4000006523

Etc. etc.

All you will find are arguments on how the lock-in of Microsoft Office makes sure noone can switch to alternatives.

Decide for yourself :-)
Here is some coverage about Microsoft's latest steps (the video is said to have been removed/gone private, probably for PR/damage control reasons):
Regarding that last one (a press release), the Microsoft booster just
had to say something negative
:
Oracle is spinning its participation in a forthcoming Open Document Format (ODF) event as proof of its continued commitment to the OpenOffice.org community.
Gavin seems to be the one spinning, not Oracle. He too seems interested in hurting OpenOffice.org, so it's not just Microsoft which does it very publicly right now. If it hurts Microsoft, it means we need more of the same. It's an indication of weakness.
⬆