FOSDEM 2011: Infiltration by Microsoft Photographed
Dr. Roy Schestowitz

2011-02-06 21:52:11 UTC
Modified: 2011-02-06 21:52:11 UTC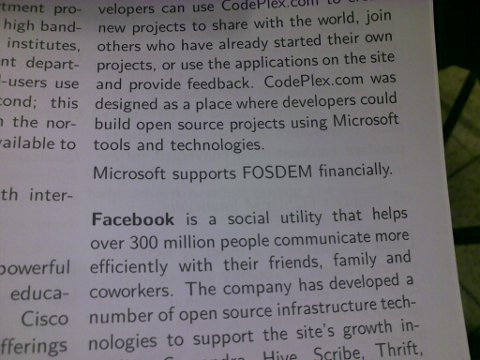 Summary: Report from this weekend's FOSDEM (in the form of a picture) and a word about a seemingly imaginary Novell BrainShare 2011
WE have already written about what Microsoft did to FOSDEM 2011, as well as the role/presence of Mono in there. The event has just ended and Ruben sent a photograph to us (click the above to zoom in). As we explained before, Microsoft was infiltrating FOSDEM 2011 like it had infiltrated LinuxTag and many other recent events [1, 2]. Richard Stallman explained what Microsoft is trying to achieve by doing this. To quote him again: "The price might be, let someone from Microsoft give a speech. "The price might be, don't say that proprietary software is evil. The price might be, present Microsoft sponsorship in a way that inhibits you from denouncing Microsoft's software as unethical."
There is another interesting event item that we've just caught in the news. While Novell's historical role in Utah got mentioned by
the local press
, "Novell BrainShare Expo 2011 in Salt Lake City" was oddly enough named
here
:
MessageSolution will be exhibiting its leading edge new product developments at IBM Lotusphere 2011 in Orlando Florida at booth #705 from January 30 - February 3, 2011, at Novell BrainShare Expo 2011 in Salt Lake City, Utah, as well as at Microsoft TechEd Expo 2011 in Georgia, GA.
Novell BrainShare Expo 2011? Salt Lake City?!?! Even Novell does not mention such a thing. Could this be an error from MessageSolution?
⬆