Alex Jones also spreads Google phobia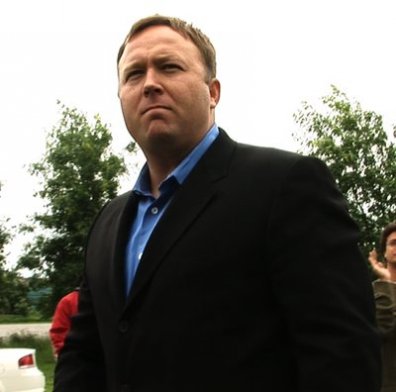 Summary: Why those who compare Free software proponents to conspiracy theorists like Alex Jones are totally missing the boat
Poisonous people try to discourage free thought by alleging that nothing goes amiss in the industry. It's a convenient illusion to be immersed in, as the reality involves many lobbyists who run the show. Those who speak about it are not the problem; the lobbyists and their funders are.
Over the past couple of years we have seen many Microsoft apologists who tried tried to paint
Groklaw
a "conspiracy theorist", even well before the site dealt with anything resembling it. And now,
upon the site's departure
, we are seeing more of the same smears. It is similar to the smears that were used against
Boycott Novell
and
Techrights
, so it is worth tackling this as a general phenomenon.
Back around 2007 and 2008 we wrote a handful of posts explaining how labels such as "hater" and "theorist" are being used to distract from real issues. Even now that we discover Facebook hired lobbyists
after investments from Microsoft
there are those who will call it a far-fetched leap of faith. Well, first of all,
Facebook finally admits that it did this
.
Groklaw
remarks on this admission as follows: "So, should I point out that Facebook and Microsoft are partners and Microsoft has invested in Facebook? Did I not tell you this was all a smear campaign, in my opinion?"
Groklaw
also quotes
this report
where Facebook daeminises Google more directly, somehow exempting Microsoft. How shallow. Regarding this
congress hearing
,
Groklaw
has something to say as well. To quote the report:
But overall, Senators at the hearing seemed to want to harp on a broad range of grievances with Apple and Google—only some of which related to smartphones or privacy at all.

Sen. Richard Blumenthal (D-CT) went ahead and hammered Google over its accidental collection of private WiFi data, a privacy scandal that's now more than two years old. He actually pulled out a Google patent application and seemed to be saying that it demonstrated Google intended to pull the private "payload" data as part of its plan to build better mapping services. Davidson was put on the spot because, no surprise, he hadn't seen the patent application before, since Google files hundreds of patents each year. He emphasized that the company wasn't ever going to use the data it had accidentally collected. "We intend to dispose of it in whatever form regulators tell us to," he said. Ashkani and another independent privacy researcher both testified that the payload data wouldn't be useful in map-building.

Update: A Google spokesman contacted me shortly after this post was published, offering this statement: "The technology in that patent has nothing to do with the collection and storage of payload data and is entirely unrelated to the software code used to collect WiFi information with Street View cars."
"These are the guys who write patent law," writes
Groklaw
. "And could someone check and see who Microsoft gives money to in Congress? There is something very odd about this, considering Microsoft's privacy policies. Why only Apple and Google called on the carpet? Seriously. It feels like a smear campaign to me. And do you see why Groklaw matters? Folks making important decisions about tech don't understand tech either, let alone patents. It's scary."
In relation to
this other article
about federal involvement,
Groklaw
remarks by quoting this:
In a quarterly report to the SEC, Google retroactively lowered its first-quarter earnings by $500 million in anticipation of a settlement with the Department of Justice, the Associated Press reports.
"I think that may be overstating matters," argues
Groklaw
, "I'd rather say that this is the outside limit of what it might cost Google, what they are setting aside just in case. They might owe nothing, after all. It's not even an official investigation yet. Here's what Google writes in the 10-Q: "In May 2011, in connection with a potential resolution of an investigation by the United States Department of Justice into the use of Google advertising by certain advertisers, we accrued $500 million for the three month period ended March 31, 2011. Although we cannot predict the ultimate outcome of this matter, we believe it will not have a material adverse effect on our business, consolidated financial position, results of operations, or cash flows." Now when you read all the FUD flying around, at least you'll know better."
"Now when you read all the FUD flying around, at least you'll know better."
--Pamela Jones, GroklawGroklaw is not alone when it comes to defending Google, which by no means is totally innocent either. It's just that a lot of it is acting, a lot of it is staged by lobbyists and maybe even radio show hosts like Alex Jones. It turned out that not so long ago when Fox/Glenn Beck ran a smear campaign against Google Rupert Murdoch was actually in bed with Microsoft. Here is what Pamela quotes GigaOM as saying, "this is a pretty obvious case of the pot calling the kettle black. While Facebook's PR pitch tries to paint Google as the company that has been besieged by privacy critics and regulators, the reality is, Facebook has been far more exposed to government criticism and sanctions — and potential regulation — as a result of its approach to privacy and its handling of personal data. The social network may have been trying to shift the attention of the press and regulators away from itself and onto Google, but all this campaign has really done is make Facebook look incompetent and desperate, and scared." We need to have more sites like Groklaw to tackle these issues. ⬆