What Attachmate Does (or Does Not Do) With OpenSUSE, SCO Case
Dr. Roy Schestowitz

2011-06-27 14:46:06 UTC
Modified: 2011-06-27 14:46:06 UTC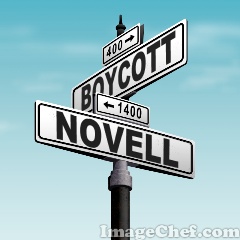 Summary: A look at what Attachmate does with Novell's side affairs having passed software patents to Microsoft (via CPTN)
ONE THING we keep reminding readers is that Attachmate, a proponent of proprietary software and prominent Microsoft partner, neglects Novell after it gave Microsoft the patents and did almost nothing to utilise Novell's assets. As an aside, the OpenSUSE project is still very quiet for known reasons, with the exception of cyclical posts like People of OpenSUSE, milestone announcements (very low-profile these days), Weekly News (latest), and flash-player alerts (because Adobe's software is shoddy). The Mono trap which is banshee (patent-encumbered) is still spreading through OpenSUSE (one of the first distributions to adopt it, if not the first) and we cannot help wondering what the future has in store. Novell is no longer around and Attachmate distanced itself from this project, on which it still has trademarks. Attachmate in general is a very mysterious entity with mysterious funding sources [1, 2, 3].
Groklaw
's PJ (Pamela Jones) is still around; she is watching Novell's case against SCO -- a case which Attachmate has not halted based on
this assessment
. It is interesting that, as far as we know, no interviewer has yet asked Attachmate about the court cases against Microsoft and SCO. Attachmate has made no statement about it either, just as it hardly names OpenSUSE or makes a plan for another SLE* release (maybe 12 would be expected, as SLE* 11 contains old packages).
Novell managers are
continuing to flee
while
Attachmate puts its own people in charge
. Latest example:
Enterprise software supplier Attachmate has announced the appointment of Norman Rohde as Vice President of Sales for Europe, the Middle East, and Africa. Attachmate specializes in software solutions for terminal emulation, legacy modernization, managed file transfer, and enterprise fraud management.
Considering news like
this
, what are the chances that Attachmate will stick to Novell's strategy with court cases and OpenSUSE? We will definitely keep an eye open.
⬆