Microsoft Search Front Ends
Dr. Roy Schestowitz

2011-11-29 20:50:24 UTC
Modified: 2011-11-29 20:50:39 UTC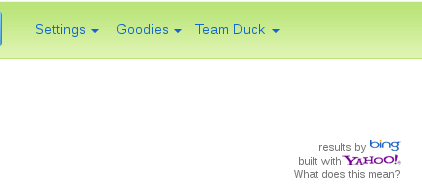 Summary: DuckDuckGo and Yahoo! as search engines lead to Microsoft and provide watered down results for FOSS subjects
THERE is reason to be concerned about Microsoft turning Yahoo! Into a purple (ish) Microsoft front end.
There is
a reason to be suspicious of DuckDuckGo
as well. A
closer look
helps us understand that when Microsoft killed Yahoo! it basically eliminated another competitor -- a malicious move which hurts the industry as a whole (destroying jobs, hurting customers, and so on). "DuckDuckGo needs to wash its hands of Bing," wrote one of our readers earlier this evening. A recent article outlining how DuckDuckGo (DDG) gives Microsoft-generated (read: censored) results much of the time gave more room for discomfort and we are now seeing Microsoft play more anticompetitive games in search. Some months ago I was shown by a friend how his Windows/IE combination could not retain the choice of Google as a default search engine. He just couldn't get it to work, so instead he was channelled into Microsoft and its front ends every time he started the Web browser. Design flaw? Surely not, it was clearly deliberate. According to
another new testimonial
, this is a widespread problem. To quote: "I recently had to install windows on a computer. This involved all the updates and bells and whistles. One of those is what some love to call internet exploder :) When starting up internet explorer for the first time it asks you to go through some hoops to set up some settings. If you were to just accept the default settings then you would be using all microsoft search engines. Naturally I did not want to use bling so I decided to choose a custom setting. I wanted Google to be my default search provider.
"I was a bit miffed that there was not a choice for Google right there. Instead I had to wait until all the settings were configured and microsoft opens up a page for me to choose the search provider I wanted. It would have been much easier if I could choose it right there. I could live with it though so I finished all the setting up of internet explorer and waited for it to open up the page so I could choose the Google search provider.
"Lo and behold the page opened up and right there in front of my eyes were a stack of icons of different search providers. The second one, with the Google colors and the Google 'g' and the name of Google.com seemed to me to be a good bet that this was the Google search provider I was wanting. I looked at all the other search providers and there was no other Google search provider listed. So it must be that one right? Wrong! Here is the page pointed to by the microsoft internet explorer setup program."
Somebody ought to investigate this. Microsoft used tricks like these before and was forced off them. While the Microsoft boosters
spin hard to pretend Microsoft honours competition
, the company is just the same psychopath is has always been. Apathy towards Microsoft is a recipe for trouble, not peaceful coexistence.
⬆