Novell a Zombie Brand
Dr. Roy Schestowitz

2013-03-01 22:27:30 UTC
Modified: 2013-03-01 22:27:30 UTC
Novell's site (front page) looks like this today: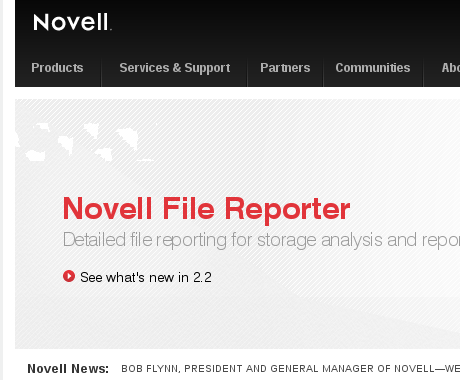 Summary: Even though Novell was sold, the brand continues to have some output under certain circumstances
Novell, the company that we first targeted in this Web site (way back in 2006), is still pursuing justice in the WordPerfect case. This is perhaps Novell's last legacy. Pamela Jones has this update on the case:


Novell has now filed its reply brief [PDF] with the US Court of Appeals for the 10th District. Here's Microsoft's brief and Novell's opening brief in its appeal in the WordPerfect antitrust case against Microsoft.

Novell's arguments are clear and powerful. "A reasonable jury could find that Microsoft's conduct was anticompetitive because it harmed Novell, was not competition on the merits, and was reasonably capable of contributing significantly to maintaining Microsoft's monopoly power in the operating systems market," Novell writes. Nowhere, it says, does Microsoft defend Microsoft's conduct as competition on the merits. And Microsoft's brief neglected to mention to the appeals court, or respond to, the District Court's conclusion that a jury could have found Microsoft's justifications for its conduct "to be pretextual." Worse, Microsoft is asking the appeals court to confer immunity on it "for deception of competitors regardless of the effect on competition."

By withdrawing its support for namespace extension APIs, Microsoft destroyed Novell's economic viability, and it did it on purpose to harm a competitor. The Bill Gates email [PDF] proves it, they believe. The whole point of documenting APIs and releasing betas is to induce reliance, so Microsoft can't credibly argue that it didn't know this change on its part would impact Novell negatively.

And again, as in Novell's opening brief (p. 38, footnote 5), Novell references Microsoft using a "deceptive script" which it says is mentioned in the email thread in which a Microsoft employee reported to his company that WordPerfect appeared to be "OK" with the change. Novell says was used to justify the change and persuade companies like Novell that Microsoft had to make the change. (Cf. this Groklaw article and this email thread [PDF] for context.) I'm sure we'll hear more about this at oral argument. So if you attend the event, and I know some of you are trying to make arrangements to attend, please watch for this in particular.

And then Novell says Microsoft ignored a great deal of the evidence that favors Novell, and so did the District Court, but the applicable standard for summary judgment under Rule 50 is that the court was required to view the evidence in the light most favorable to Novell, which it failed to do. Microsoft also ignored evidence that its conduct harmed competition in the operating systems market, including evidence from binding Findings of Fact from the US v. Microsoft case, and the testimony and statements of Microsoft executives (cf. Groklaw). And finally, Microsoft disregarded applicable substantive law, Novell argues.
Novell was sold to Attachmate, but the Novell brand lives on. There is
this new post
about a Novell-branded product which Novell boasts about at
novell.com
:
Adding to the existing Novell File Management Suite, Novell File Reporter 2.0 integrates with both eDirectory and Active Directory to simultaneously report on Novell and Microsoft network folder and file data and corresponding file rights.
This product was even
announced in Novell's Web domain
. Not too long ago Novell tried telling us that it was not dead. For most purposes, however, it is just a brand owned by Attachmate and it's the name of the claimant in the case against Microsoft. Novell's board has been
sued for selling the company
.
⬆