Entryism Threats From Bill Gates and His Successor (Now in HP's Board)
Dr. Roy Schestowitz

2013-07-16 21:32:28 UTC
Modified: 2013-07-16 21:32:28 UTC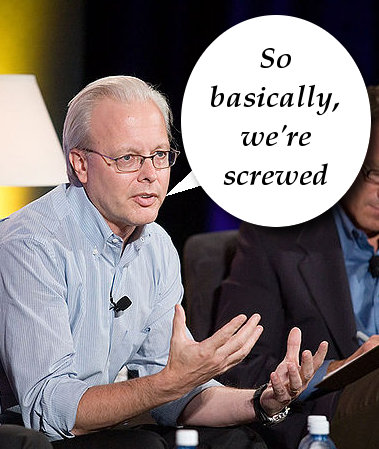 Summary: Ozzie enters HP's board and Gates' minions are seen around privatisation attempts in the United States
Recently, the head of Office was leaving Microsoft following some other high-tier departures. This is looking bad for Microsoft, which waved a bunch of meaningless nonsense to distract journalists (see this breakdown of the nonsense).
Noting a worrisome development, iophk says "So much for the HP Chromebooks," citing
this entry of a Microsoft mole into HP's board
. There have been other moles entering HP from Microsoft, as we covered here before. What this will do to Linux/Android we just don't know yet, but it can't be good. This is the guy who was supposed to be Gates' successor [
1
,
2
,
3
,
4
]. Speaking of Gates, mind
this post
from last week. Will Hill says:
CEO Behind Lac-Mégantic Derailment was Bill Gates Business Partner



This is what happens when plutocrats call the shots. Edward Arnold Burkhardt had the right technical background but seems to have fallen in with the wrong kinds of people. His background includes an impressive array of trade apprenticeships and management training. Then come the money men like Gates who basically took over the world through leveraged buyouts with Wisconsin Central. Then things started to go horribly wrong, he was kicked out and started Rail World

WC has all the hallmarks of a Gates manipulation. Government, regulatory manipulation for private gain, marketing over safety, screwed employees and screwed investors. Notice the favorable Gates/Wall Street press coverage, wild stock rides, world domination and the ultimate greedy fight to kick out the guy who knew what he was doing.



Burkhardt was instrumental in partnering with the former Chief Financial Officer of the Chicago, Milwaukee, St. Paul and Pacific Railroad, Thomas F. Power Jr., to lead a group of investors who established one of the first post-deregulation regional railroads in the United States, the Wisconsin Central Ltd. ... Burkhardt was regarded as something of a railroad rebel for his entrepreneurial, productivity-driven leadership approach at WC.[4] The WC management plan included non-union employees and an absence of work rules, and it stressed marketing and customer service.[4] The company became profitable within six months of starting operations and went public in 1991 which was the beginning of a "six-year run (on its stock price) that saw its value increase more than 15-fold" ... Burkhardt led WCLX to become one of the first significant international rail industry investors by leveraging the holding company to invest in railroad acquisitions and/or government privatizations and/or partnerships. [US, New Zealand, Canada, 90% of UK rail freight, Australia and Tasmania]



Remember that beautiful film about the downsides of UK rail privatization, The Navigators? That was WC management.

http://en.wikipedia.org/wiki/The_Navigators_%28film%29

by the mid-1990s the safety record at WC began to be scrutinized more closely, particularly following the disastrous Weyauwega, Wisconsin derailment in March 1996. ... Burkhardt favored investment for the long term whereas Powers favored cutting expenses; this reportedly led to frequent clashes between the two executives and culminated in a July 7, 1999 special meeting of the WCLX board of directors in which Burkhardt was asked to resign. Upon leaving WC/WCLX, Burkhardt was paid a severance of $1.3 million up front as well as $1.3 million in monthly installments over three years and WCLX's rights in a project to privatize the Estonian Railway (Eesti Raudtee). Burkhardt still held 3.5 million shares in WC/WCLX (over 7%) and launched a bitter proxy battle to attempt to regain control of the corporation, however, he was ultimately unsuccessful in swaying the company's largest shareholders: Bill Gates, Southeastern Asset Management of Memphis, Tennessee and the State of Wisconsin Investment Board.

Burkhardt went on to start Rail World, Inc., the company responsible for the recent derailment disaster. Bill Gates might owns stock in competitor, Canadian National Rail and I do not know if he financed Rail World. This time Burkhardt chased deregulation and privatization in the former Soviet territories. Management style, regardless of which plutocrat is calling the shots, was much the same.

http://en.wikipedia.org/wiki/Edward_Burkhardt#Wisconsin_Central http://www.bloomberg.com/news/2013-05-16/bill-gates-retakes-world-s-richest-title-from-carlos-slim.html http://www.forbes.com/sites/gurufocus/2013/02/14/latest-picks-from-bill-gates-foundation-buys-ko-pg-wmt-sells-costco-csx/

Burkhardt has done the expedient and blamed his employee but it rings hollow. Company policy, from the start, was all about cutting corners. Since the accident everything that happened has be described as "routine" and "company procedure".

Burkhardt laid the blame for the crash on his own engineer for failing to properly apply hand brakes on the rail cars when they were parked in nearby Nantes. He said his company's inspection indicated the brakes were applied on the locomotives, but not on the rail cars.

http://www.bloomberg.com/news/2013-07-10/rail-world-ceo-says-quebec-train-brakes-not-set-properly.html

How very Microsoft to blame a rogue employee.
Profit by privatisation is always a smart business model of the greedy, Gates is also trying that in education, as
we last showed yesterday
.
⬆