Tim Berners-Lee, the founder of the World Wide Web, is widely criticised on the World Wide Web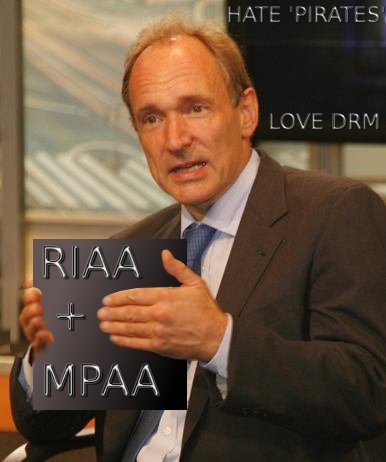 Source: Original from John S. and James L. Knight Foundation, modified by Techrights
Summary: Tim Berners-Lee and the W3C are quickly destroying their reputation by showing that they work for Hollywood
DECADES ago Tim Berners-Lee created what we now know as the "World Wide Web". Unlike the Internet, this was not a military project. It was harboured by CERN (science) at the time. Unlike the Internet, the World Wide Web was not a tool of power over people. It was created to help Tim Berners-Lee share his physics paper with other people, collaborating and pushing towards scientific improvement.
I have enormous respect for Tim Berners-Lee and I also exchanged some words with him online (regarding patents in the W3C) after I had pointed out in a conflict or contradiction regarding the stance on software patents. It sure seems like Apple, Microsoft, etc. are
hijacking the W3C and Tim Berners-Lee just walks along with them
. He can't be foolish enough to genuinely believe that DRM is a good idea, but he sure goes ahead with it now. At Mozilla, there is now
a "pledge never to implement HTML5 DRM"
and Slashdot
chastises Tim Berners-Lee and the W3C for approving work on DRM for HTML 5.1
. Most notably, however, the DRM stance gets criticised by the EFF, which unlike the FSF is not expected to feel quite so strongly on this matter. A prominent EFF figure
accuses the W3C of lowering its standards
and says:
On Monday, the W3C announced that its Director, Tim Berners-Lee, had determined that the "playback of protected content" was in scope for the W3C HTML Working Group's new charter, overriding EFF's formal objection against its inclusion. This means the controversial Encrypted Media Extension (EME) proposal will continue to be part of that group's work product, and may be included in the W3C's HTML5.1 standard. If EME goes through to become part of a W3C recommendation, you can expect to hear DRM vendors, DRM-locked content providers like Netflix, and browser makers like Microsoft, Opera, and Google stating that they can now offer W3C standards compliant "content protection" for Web video.
Cory Doctorow, another influential person,
is rightly upset
and the word is
getting out there
:
We got news on Wednesday from Boing Boing that the World Wide Web Consortium is going to add DRM to HTML 5. There's not much information available right now on how this will work or how many browser developers will go along with the program and allow their product to become enforcers for Hollywood and the recording industry.
If Tim Berners-Lee is trying to destroy his reputation right now, then he sure does a fantastic job.
The problem is not the medium, the problem is the way information is encoded. If the W3C actively facilitates DRM, then it turns the Web into just a vehicle for encryption that is used against people (Blu-Ray in itself is fine [1], but it's DRM that spoils it). The copyright cartel does not need DRM to do business, shows a new study [2]. The so-called war on piracy is a form of muddying the well [3] for censorship, control, and artificial inflation of sales that relies on making work digitally expire, rot, erode. That's not what the World Web Wide was created for. That's not what motivated Tim Berners-Lee to set up a site/Web pages.
More people and even nations begin to entertain the possibility of a 'new' Internet or 'new' Web -- one that's not riddled with spying (mostly US-centric surveillance as the US controls the Internet) and with DRM (mostly serving Hollywood). Tim Berners-Lee is British, so given the GCHQ's special relationship with the NSA he remains to show what side he will be on. There are parallels to be drawn between the surveillance crisis and the menace of DRM. It's all about controlling one's packets.
⬆
Related/contextual items from the news
:
The latest release of libbluray, the open-source Blu-ray library used by VLC, MPlayer, and XBMC among other multimedia projects, has better support for Blu-ray Disc Java and Blu-ray menus.





The London School of Economics and Political Science has released a new policy brief urging the UK Government to look beyond the lobbying efforts of the entertainment industry when it comes to future copyright policy. According to the report there is ample evidence that file-sharing is helping, rather than hurting the creative industries. The scholars call on the Government to look at more objective data when deciding on future copyright enforcement policies.





The Internet Archive is being plagued by scammers who upload thousands of links to pirated movies in the hope of luring visitors into downloading malware or signing up with pay sites. The uploads seemingly point to popular movie titles such as World War Z, Epic and The Hangover Part III, but unsuspecting users who try to watch or download a copy are in for a heap of trouble.