"People that use Red Hat, at least with respect to our intellectual property, in a sense have an obligation to compensate us."
--Steve Ballmer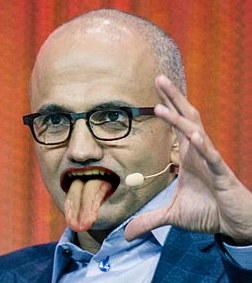 Satya Ballmer
Summary: Satya Nadella continues Steve Ballmer's tradition of just attacking the competition rather than outperform or fairly compete against it
MICROSOFT not only invests in patent aggressors (e.g. Finjan) but is also feeding some patent trolls with patents (e.g. MOSAID, a.k.a. "Conversant" following a rename), creating new patent trolls (like the world's biggest, Intellectual Ventures), and turning real companies into trolls (case of point being Nokia, which we wrote about yesterday in light of royalty stacking against Android).
We cannot emphasise this strongly enough: Microsoft is
not
a troll. It is a
super troll
. It is one giant troll (not the stereotypical kind), masquerading or hiding behind its brand and some products that nobody really wants to buy (OEMs force their customers to pay for these and in areas like phones or tablets even OEMs currently refuse to pay).
Nokia keeps pretending to be anything but a Microsoft stooge, but
this revealing new interview with the post-Elop chief
speaks volumes. "Microsoft makes mobile phones," Rajeev Suri (Nokia chief) said. "We would simply design them and then make the brand name available to license."
Make no mistake here; Nokia isn't separated or even separable from Microsoft. The staff has been genetically engineered/modified/selected based on loyalty to Microsoft since 2011. The 'original' Nokia still has a lot of patents and it now officially uses them to tax Android, as we first reported last night. Nadella (
not the real boss
but the
tactless
and latest
public face
) continues Microsoft's racketeering strategy against Linux and Android (we
repeatedly wrote
about this
with accompanying examples
) while having the audacity/nerve to say that "Microsoft loves Linux" (
it very clearly hates GNU/Linux
). Nokia as a troll and Microsoft as a troll is not dramatic labelling; just look at what they're doing. They are selling almost nothing while taxing almost everything, including Apple's line of 'i' devices.
"The 'original' Nokia still has a lot of patents and it now officially uses them to tax Android, as we first reported last night."Microsoft is of course not the only company that behaves like this. Jawbone, for example, sues Fitbit again [1, 2, 3, 4, 5] (seems like litigation is Jawbone's busines plan) and some companies like Cardiac Science are making patents their revenue source. Then there is the patent trap which is Blu-ray Discâ"¢ (a big pile of patents) and Juristat, a new service, aims to untangle some of the patent web/backlog. There is a patent thicket in many areas right now and it's only getting worse, hence harder for examiners to properly assess for duplicates/merit. Juristat tries to help patent lawyers increase their 'output'. As this new article put it: "The Software as a Service (SaaS) company allows users to plot their chance of success in all aspects of the patent application process. Among the many features, Juristat can tell an attorney the number of allowed (approved), pending and abandoned patent applications in front of a current examiner, the likelihood of your application getting allowed and your chances of success in an appeals."

In this world that had increasingly become patent-obsessed and then saw a bubble burst (Microsoft's patenting numbers dropped sharply this year) we are bound to see desperate/dying companies using patents in their last battle against competition that truly wins (like Android). Software patents may still have some years of lifetime in the US (they are a ticking time bomb waiting to implode, not explode). This is why Microsoft has been so focused (especially since the Novell deal) on attacking GNU/Linux with patents. ⬆