FTI Consulting helps the EPO 'manage' Dutch and German media (new contract recently signed), but that does not always work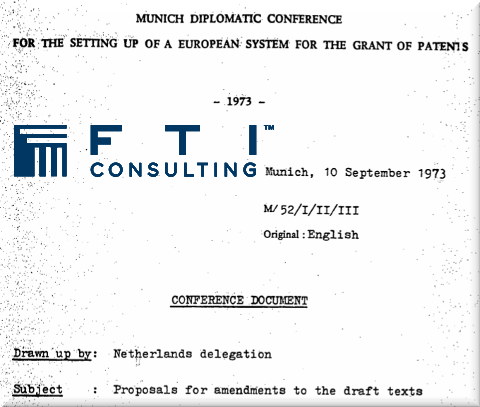 Summary: The mass media is catching up with Battistelli's alienation, segregation or isolation of the boards of appeal as part of his plan to phase them out of existence and maintain systematic exacerbation of patent quality for production's sake, where "production" is inaccurately and improperly measured
THE media has been rather quiet regarding the EPO recently. The only "EPO" we see in the news is actually the drug, typically in relation to doping in the Olympic games.
"For your information," told us one of several readers who alerted us about
Süddeutsche Zeitung
, the local paper "finally
breaks the silence
on the EPO..."
It is an
article composed not by one of the more familiar writers (who ought to be quite familiar with EPO matters)
and several people told us about it.
"I noticed the following article which has just appeared in the
Süddeutsche Zeitung
," one reader told us. "It is mainly about the planned move of the EPO Boards of Appeal to Haar and it refers to the recent coverage of this story on
Techrights
." (see for example [
1
,
2
])
It is good to know that they follow
Techrights
. We typically get the stories here earlier than the corporate media.
"Battistelli's plans to send the Boards of Appeal into "exile" in Haar are eerily reminiscent of the methods employed by Željko Topić during his time at the Croatian SIPO," told us this reader, "as previously reported by
Techrights
" (see for example [
1
,
2
])
"The difference," continued this reader, "is that in his previous role Topić could only inflict damage on the IP system in Croatia. It seems that with Battistelli's backing he has managed to manoeuvre himself into a position where he can now operate on a European scale."
This is pretty bad as it brings what we once saw dubbed "Balkan standards" into the whole of Europe. We previously made note of exactly the above point (similarity to Topić's history in Croatia).
These problems at the EPO are real and there is no solution in sight for them (not in summertime anyway). European Inventor Award 2017 (EIA2017) is already being planned as if everything will be fine for another year to come and the PR people are
'spamming' for it
(there have been yet more examples of that since, albeit not as much if anything at all after we published the article). "Inventors who aren't European nationals but have been granted a European patent can also be nominated for this Award,"
the EPO stated in relation to EIA2017
. It's not "European Inventor Award 2017" just as "European Patent Office" is not really European, I've told them, considering the fact that there is even
discriminatory prioritisation which puts small European businesses at the back of the line
.
"I would replace "in Europe" by "at the EPO","
wrote Benjamin Henrion
in response to
software patents advocacy in Europe
. I told him that that EPO "is not European, it just has the word "European" in its name, like Federal Express which isn't Federal." The EPC does not permit software patenting either, but that does not exactly prevent EPO management from trying to work around the exclusions.
A lot of the above relates to how detached from the EPC Battistelli's EPO has gotten. It's jaw-dropping that he managed to get away with it. The EPO now has a
Brexit-like 'Constitutional Crisis'
(dealing with deviation from founding documents like EPC and EU/Lisbon Treaty). Apparently, with help with his marionette called Kongstad, there is something Battistelli can do. A discussion about it is buried inside a very long, multi-page comments thread (the only remaining suitable place as
IP Kat
barely covers EPO these days). To quote the latest in this discussion:
Hmmm. Not sure I agree that the founding fathers "made arrangements" for arbitration. For example, they failed to provide a description of how arbitration should work, and who should be the arbiter.

At best, the PPI merely provides for the possibility of arbitration. However, there are many practical barriers to that possibility being exploited. For a start, there is the complete apathy upon the part of the representatives to the AC (who, it must be remembered, come from national offices whose income from renewal fees will increase if examination standards at the EPO are lowered). Then there is the total absence of any formal procedure for initiating a dispute.

So who do you see "getting the ball rolling" in this context?


Read Article 24 of the PPI.

I keep posting the text of the Article but the comment doesn't seem to get through ... http://www.epo.org/law-practice/legal-texts/html/epc/2016/e/ma5.html

There is a very detailed description of how the arbitration is to take place. The President of the ICJ has a role in selecting the committee. It's all there in black and white. You just need to RTFM ...


Do not overlook Article 23 (2) PPI:

If a Contracting State intends to submit a dispute to arbitration, it shall notify the Chairman of the Administrative Council, who shall forthwith inform each Contracting State of such notification.

That is how the ball starts rolling. A notification is sent to the Chairman of the AC. It's that simply.


Thanks. You are quite correct, of course. Interesting that Art. 24(2) PPI states that "This panel shall be established as soon as possible after the Protocol enters into force and shall be revised each time this proves necessary". This implies that the relevant panel should have been established almost 40 years ago. So which panel is it? And what rules of procedure for that panel have been established according to Art. 24(4)? Or are those yet further provisions of the EPC that the AC has neglected to follow?
I suspect that this could very well be the case. To the best of my knowledge the details of the "panel" - if it has been established - have never been published. Normally one would expect that kind of information to appear in the Official Journal. However there does not seem to be any explicit requirement for publication of the membership of the panel.

From that I conclude that either the provision has been ignored or else it's a well-kept secret.
Can Battistelli simply bend the rules and make up new rules to justify his abuses retroactively? If some time in the past he simply broke the rules, as he did
as far back as 2014
(if not further back), why does he get to keep his job and
astronomical salary
?
EPO mouthpieces have certainly helped that
and based on internal documents we saw, Battistelli still cites these same mouthpieces for 'evidence' and 'support'
regarding patent quality
. He is fooling the delegates at times when they growingly express concerns about patent quality. Battistelli is a chronic liar. Maybe he does this without even realising (the hallmark of sociopaths, learning to believe one's own lies and reject critical voices).
⬆