Marketing and an attack on one's competition disguised as 'news'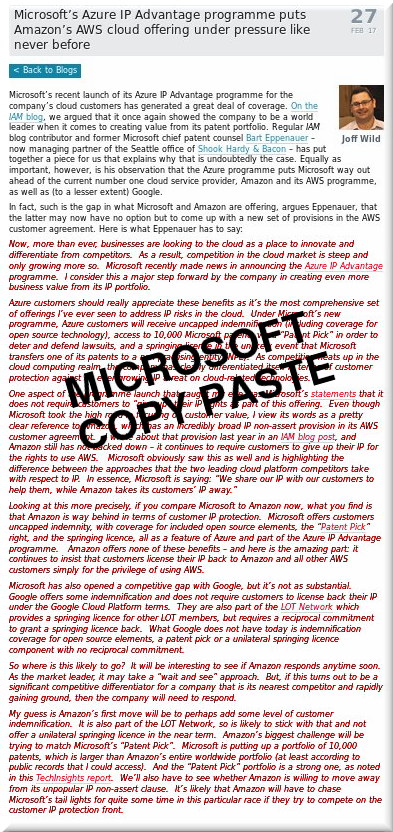 Summary: The new front against GNU/Linux, or the attempt by Microsoft to tax the platform using software patents, is glossed over in puff pieces from Microsoft, conveniently published under IAM's own umbrella again
FOR a number of years now -- and as recently as just months ago -- we have been pointing out the role of IAM as mouthpiece/megaphone of Microsoft Corporation, or whoever pays the bills (e.g. by company-wide subscription). However one passes/creates financial strings, it's not publicly disclosed and it can affect the editorial process.
Right now there is
this new 'article'
(actually ghostwritten) which repeats the lie that "Azure IP Advantage" is some sort of Earth-shattering thing and that it's effective against trolls (it's not because Microsoft cannot sue them; at best it could offer indemnification, but that's not what this programme is about). It's yet more of that scaremongering about what would happen to people, especially if they don't pay Microsoft. We have already covered the subject in the following recent articles:
Is the Linux Foundation going to remark on Microsoft's resort to software patents? Or playing dirty games with software patents in order to entice people? With Microsoft money on its table, the Linux Foundation's staff is likely to just foolishly smile and hope that nobody will notice what kind of members it continues to let in.
A point worth emphasising about Azure's supposed "IP Advantage" is, these are all Microsoft
software
patents, as inside mere VMs one can only run software. It's not about hardware or gadgets; the "bare metal" argument in the context of so-called 'clouds' has totally changed.
In the above IAM piece, the editor in chief continues a pattern of speaking to Microsoft chiefs or former chiefs for talking points. In this case, it's just a large copy-paste job. Why not just call IAM a "division of Microsoft" or something like that? Or the courier of sponsors, including patent trolls? They are doing this not for the first time, and it's usually the same people (just reprinting them). Sometimes it's the
EPO
. In
Techrights
alone we wrote about IAM's proximity to Microsoft many times before (they also run on Microsoft platforms and proprietary software).
Here is a portion from this 'article':
Microsoft's recent launch of its Azure IP Advantage programme for the company's cloud customers has generated a great deal of coverage. On the IAM blog, we argued that it once again showed the company to be a world leader when it comes to creating value from its patent portfolio. Regular IAM blog contributor and former Microsoft chief patent counsel Bart Eppenauer – now managing partner of the Seattle office of Shook Hardy & Bacon – has put together a piece for us that explains why that is undoubtedly the case. Equally as important, however, is his observation that the Azure programme puts Microsoft way out ahead of the current number one cloud service provider, Amazon and its AWS programme, as well as (to a lesser extent) Google.
Microsoft can send trolls to attack Amazon or Amazon's customers, then say, "flee to Microsoft or go bankrupt!" It's not unthinkable given what we saw in recent history.
A lot of people use AWS to host GNU/Linux with a lot of Free software such as Apache. Only software patents can ever be asserted against customers of AWS and if Amazon was to offer indemnification of some kind, it would still enable Microsoft's trolls to drive up the operation costs and thus hosting fees, rendering the platform less competitive. Amazon is actually one of the most sued (if not
the
most sued) company over patents.
As a side note, we often complain that Microsoft sends its trolls to attack Google. Microsoft's legal targets (targets for bullies with patents) these days are typically Chrome or Chrome OS and Android, the GNU/Linux- and Linux-based operating systems (respectively) from Google. Microsoft goes after the pertinent OEMs as they have less incentive than Google to fight back in court. Having said that, Google too has gone to the dark side, as
we noted a short while ago
.
TechDirt
's founder too
has just said
that it's "Disappointing To See Google's Waymo Sue Over Patents" and this is what he published hours ago:
For years, we had pointed out that one of the nice things about the new generation of tech companies was that they rarely seemed to use patents offensively. Yes, they were subject to tons of patent lawsuits from trolls or from legacy players trying to hang on against innovators, but we've pointed out in the past that young companies innovate, while older companies litigate. So, we have a tendency to watch companies to see when they shift from being patent litigation defenders, to going on the offensive. For years -- even as patent system supporters falsely claimed that Google only existed because of patents -- it was good to see not a single example of Google going on the offensive and filing patent lawsuits against other companies.

That changed, unfortunately, back in 2012 when Google brought a patent lawsuit against Apple. Some argued that it wasn't "really" Google, because it came from Motorola, a company that Google had purchased (mainly for the patents) and then only owned for a short while before dumping, but it was still a Google-owned property going on the offensive. At that time, we argued that if Google really wanted to support patent reform (as the company claimed) then it should stop being a patent aggressor.
Where are the large corporate actors that are willing to publicly and prominently fight back against software patents? Are there no real allies left, at least not among companies that grew too large to care? And what good is OIN or the Linux Foundation if they are mere lapdogs of some of the world's largest patent bullies?
⬆